Archduke Josep 
Archduke Josef (13 March 1741-20 February 1790) From 1765 Joseph II, Holy Roman Emperor
Archduke Josep married Princess Isaballa in 1760.
Joseph really loved his first wife. She had more feelings for her sister-in-law,  Archduchess Maria Christina with whom she spend almost all of her time.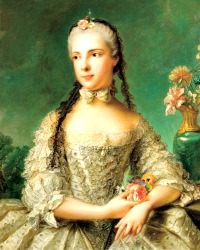 Princess Isabella of Parma (31 December 1741 – 27 November 1763)
Isabella had several miscarriages, and her only surviving daughter Archduchess Maria Theresa of Austria, died in 1770 at the age of eight  from pneumonia. Isabella died even before that in 1763 from smallpox.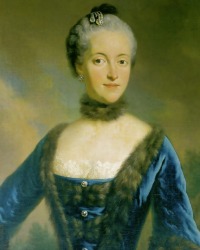 Maria Josepha of Bavaria (30 March 1739 – 28 May 1767)
Since Joseph's first marriage did not produce an heir to the throne he was forced by his mother, Empress Maria Theresa, to remarry.
The wife she choose for him was Maria Josepha of Bavaria, his second cousin. The marriage was not a happy one, and lasted only for two years. In 1767 she also died from smallpox, just like Joseph's first wife. Joseph did not visit her when she was ill, and did not even show up for her burial. He never re-married and had no surviving issue.
Joseph II died in 1790 and was succeeded by his brother, Leopold II.