A Habsburg Family
Empress Maria Theresa, the only female ruler of the Habsburg dynasty.
She ruled the Holy Roman Empire for 40 years, between 1740 and 1780. She became an expert in marriage politics, having lots of material with sixteen children! Read about here children below.
DISCLOSURE: I get commissions for purchases made through some of the links in this article.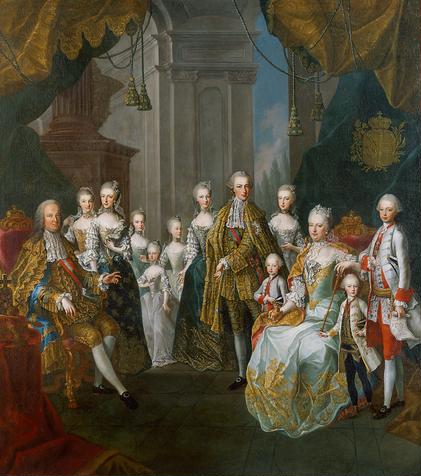 The emperial family in 1754, painted by Martin van Meytens. Fransic and Maria Theresa with eleven children.
A Habsburg family of great fame was that of Empress Maria Theresa and Emperor Francis I of the Holy Roman Empire. Maria Theresa von Habsburg was the eldest daughter of emperor Charles VI of the Holy Roman Emire.
Altough never heard of in these days, Maria Theresa succeeded her father since he abolished male-only succession. Having no male issue Charles VI choose his eldest daughter as his successor over his brother. 
Maria Theresia was married to Francis Stephen, son of the Duke of Lorraine. They founded the new dynasty of Habsburg-Lorraine. Maria Theresa was the only ruling female of the Habsburg dynasty, which ruled great parts of Europe during 650 years.
The marriage of Maria Theresa and Fransic I was also arranged by Charles VI, and for that reason Francis grew up in Vienna together with Maria Theresa. Unlike many arranged marriages their's was one of love and affection. They had sixteen children together.  
Maria Theresa made sure her children had good marriages in order to make allies throughout Europe.
Below you will find a list of of all their surviving children and their spouses.
The children of Maria Theresa and  Fransic I
Archduchess Maria Anna (6 October 1738 -19 November 1789)
Archduchess Maria Anna was the oldest daughter of Maria Theresa and Francis.
She was physically disabled, and therefore never married and had no issue. She was very intelligent and had a great interest in art and science.
She became abbess in 1766 and spend the last years of her life living together with her sister Maria Elisabeth.
---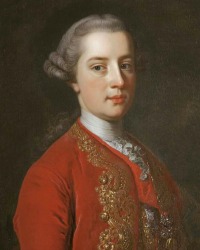 Archduke Josef (13 March 1741-20 February 1790) From 1765 Joseph II, Holy Roman Emperor
Archduke Josep married Princess Isaballa in 1760.
Joseph really loved his first wife. She had more feelings for her sister-in-law,  Archduchess Maria Christina with whom she spend almost all of her time.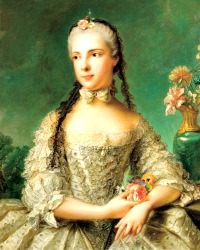 Princess Isabella of Parma (31 December 1741 – 27 November 1763)
Isabella had several miscarriages, and her only surviving daughter Archduchess Maria Theresa of Austria, died in 1770 at the age of eight  from pneumonia. Isabella died even before that in 1763 from smallpox.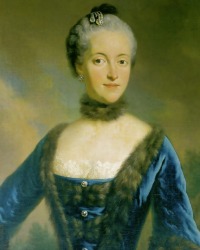 Maria Josepha of Bavaria (30 March 1739 – 28 May 1767)
Since Joseph's first marriage did not produce an heir to the throne he was forced by his mother, Empress Maria Theresa, to remarry.
The wife she choose for him was Maria Josepha of Bavaria, his second cousin. The marriage was not a happy one, and lasted only for two years. In 1767 she also died from smallpox, just like Joseph's first wife. Joseph did not visit her when she was ill, and did not even show up for her burial. He never re-married and had no surviving issue.
Joseph II died in 1790 and was succeeded by his brother, Leopold II.
---
| | |
| --- | --- |
| Archduchess Maria Christina (13 May 1742 - 24 June 1798) | Prince Albert of Saxony, Duke of Teschen (11 July 1738 – 10 February 1822) |
Archduchess Maria Christina was the only of Maria Theresa's daughters who was allowed to choose her own husband. The couple had a happy marriage. They only had one daughter who died a day after her birth. Maria christiana was not able to have any more children after that. They adopted Archduke Charles of Austria, the son of maria Christina's brother Leopold. 
---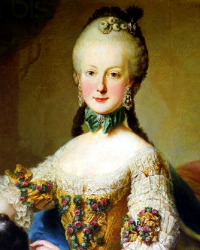 Archduchess Maria Elisabeth (13 August 1743 - 22 September 1808)
Archduchess Maria Elisabeth was said to be the most beautiful daughter of Maria Theresa and her mother hoped for a good marriage for her.
She was even considered to be the second wife of Louis XV when his first wife died in 1768. But then Maria Elisabeth also contacted smallpox which scarred her face in such a way that her changes of a good wedding were over.
She became an abbess of the Convent for Noble Ladies just like her older sister Archduchess Maria Anna with whom she spend her last years.
---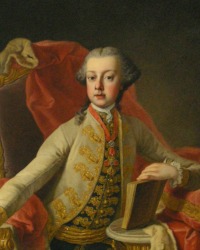 Archduke Karl Josef (1 February 1745- 18 January 1761)
Archduke Karl Josef was the second and favourite son of Maria Theresa.
He hated his older brother Joseph and claimed he had more right to the throne than his elder brother since he was the first born while his father was Emperor (which was not true since his father became emperor in October 1745 while he was born in February). 
He was bound to cause trouble, but before things could get out of hand he too died from smallpox just before he turned sixteen.
His mother was in tears, but he would have said: "You should not weep for me, dear mother, for had I lived, I would have brought you many more tears".
 (From  Mahan, p270).
---
| | |
| --- | --- |
| Archduchess Maria Amalia (26 February 1746 -9 October 1802) | Ferdinand, Duke of Parma (20 January 1751 – 9 October 1802) |
Archduchess Maria Amalia was married to Ferdinand, the Duke of Parma (the brother of Archduke Joseph's first wife Princess Isabella of Parma). This marriage was not her own choice, but her mother's.  Maria Amalia resented her mother for the fact that her sister Maria Christina was allowed to marry the man of her choice, and she was not. The relationship between mother and daughter never improved.   
Maria Amalia was almost as fertile as her mother. She gave birth to 9 children. Most of her children died young; 2 died in infancy and at the age of 46 she gave birth to a stillborn twin. Only three of her children grew up to adulthood. The two  daughters joined a religious order and had no issue. The oldest son became  King Louis I of Etruria.
---
| | |
| --- | --- |
| Archduke Peter Leopold (5 May 1747-1 March 1792) From 1765 Grand Duke of Tuscany and then Holy Roman Emperor Leopold II in 1790. | Infanta Maria Luisa of Spain (24 November 1745 – 15 May 1792) Holy Roman Empress |
Another fruitfull marriage was that of Archduke Peter Leopold  with the Infanta Maria Luisa of Spain. Like his parents he too had sixteen children (and a lot of illegitimate children as Leopold was famous for his affaires). 
As Leopold (as anyone called him) was the third son it was unlikely for him to ever become emperor, or even Duke of Tuscany, since those titles (both held by his father Francis I) were reserved for his older brothers. When his brother Charles died in 1761 it was decided that Leoppold should succeed his father as Grandduke of Tuscany.
There was even a change of bride at that moment; until then Leopold was engaged to be married to Maria Beatrice d'Este, heiress to the Duchy of Modena. After his Charles' dead this engagement was broken off so he could marry a better spouse (Maria Beatrice married his brother Archduke Ferdinand instead!) 
Leopold and Maria Luisa were married in 1764 and spend the first twenty years in Florence as the Grand Duke and duchess of Tuscany, and than, in 1790, Emperor Josef II died.
They became holy roman emperor and empress and went back to Vienna. Their second son Fredinand succeeded his father as Grand Duke of Tuscany, while his older brother Francis had to wait untill his father's dead before he could succeed him. This would not take long however, since Emperor Leopold II died two years after his coronation, and his wife died three months later. 
---
| | |
| --- | --- |
| Archduchess Maria Karolina (17 September 1748) died in infancy | Grand Duke Leopold of Tuscany with his brother Emperor Joseph II in 1769 |
---
Archduchess Maria Johanna Gabriela (4 February 1750 - 23 December 1762)
Archduchess Maria Johanna Gabriela was engaged to Ferdinand I of the Two Sicilies. 
In the second half of the eighteenth century smallpox was cause of death for many people in Austria. Maria Theresa desided to inoculate all her children to set an example to the common people.
All children suvived this primitive immunization, except Maria Johanna. She died of small pox at the age of 12.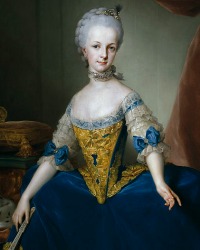 Archduchess Maria Josepha (19 March 1751 -15 October 1767)
Than her sister Archduchess Maria Josepha was also engaged to Ferdinand I of the Two Sicilies.

On the very day she was to travel to her fiancee to get married, she too died of smallpox. She was sixteen years old. 
---
| | |
| --- | --- |
| Archduchess Maria Carolina (13 August 1752 - 8 September 1814) | King Ferdinand I of the Two Sicilies (12 January 1751 – 4 January 1825) |
Archduchess Maria Carolina was the one who finally married Ferdinand I of the two Sicilies, who had been engaged too two of her sisters first. They had 18 children, from which 11 died in childhood. She tried to marry the surviving children off as strategically as her mother had done with her children.
King Ferdinand I of the Two Sicilies is also known as Ferdinand III of Sicily and Ferdinand IV of Naples. In 1816 both thrones were merged and he became King Ferdinand I of the Two Sicilies. 

---
| | |
| --- | --- |
| Archduke Ferdinand (1 June 1754 -24 December 1806) | Maria Beatrice d'Este (7 April 1750 – 14 November 1829) |
Maria Theresa arragenged good marriages not only for her daughters. The brides for her sons were also picked strategically. By the marriage of Ferdinand with Maria Beatrice d'Este the Duchy of Modena (in Italy) became part of the Habsburg empire.
The couple had ten children. Their youngest daughter Maria Louise later married her first cousin, emperor Francis I of Austria, the son of Leopold II.
---
| | |
| --- | --- |
| Archduchess Maria Antonia (2 November 1755- executed 16 October 1793) From 1774 Queen Consort Marie Antoinette of France | Louis-Auguste, Dauphin of France (23 August 1754 – 21 January 1793) From 1774 King Louis XVI of France |
The best match of course was the marriage between Maria Antonia (Marie Antoinette) and Louis-Auguste, Dauphin of France in 1770. The marriage consolidated the diplomatic reconciliation of the two royal houseafter decades of war and rivalry. 
You can read all about Marie Antoinette, Queen of France here. 
King Louis and Marie Antoinette had four children. Non of them had issue. You can read their horrible story here.
---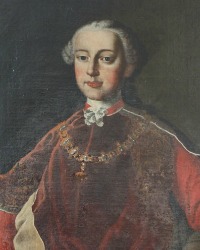 Archduke Maximilian Franz (8 December 1756-27 June 1801)
Archduke Maximilian Franz became Archbishop-Elector of Cologne and Prince-Bishopric of Münster.
Maximilian Francis is best known as the patron of Ludwig van Beethoven. He was a great supporter of the arts, and maintained a court orchestra, which was very fashionable at the time.
Ludwig's father, Johann van Beethoven, was tenor in this orchestra at the Court of the elector in Bonn. 
Maximilian soon discovered the talent of the young Ludwig and made sure that he could go to Vienna to study with Mozart.
Maximilian never had a good health and became very fat. He died at the early age of 45.
---