Amberley Castle Hotel, UK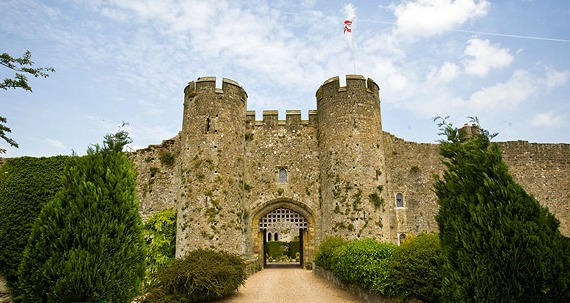 The Luxury-class Amberley Castle Hotel in England is more than 900 hundred years old. 
It is an authentic medieval castle which was visited by Henry VIII in 1526. He needed to speak to the Bishop Sherborne, who used Amberly as his home,  about his divorce from his Spanish wife Catherine of Arragon. 
The bishops of Chichester owned the land and castle of Amberley since 1103 when they first started building. Bishop Sherborne was the last bishop who lived there though. Because of the reforms during the reign of Henry VIII the castle fell into crown ownership. Queen Elizabeth I leased the castle between 1588-1603.
This castle could also be on the haunted castle section of this website because it seems to have its very own ghost. Emily, a young girl working at the castle, fell in love with the bishop and got pregnant. Of course, the Bishop rejected her, and she threw herself of the battlements to her death. Nowadays her ghost is seen in the Herstmonceux room, which has a secret doorway to the battlements…   

The hotel is a combination of picturesque ruin and a luxury hotel.

Nice touch, they raise the drawbridge every night!