Welcome to palaces-of Europe.com, my way of sharing my fascination for the castles and palaces of Europe. More specific, for the daily life of the European kings and queens, their mistresses, their family and their servants.
And of course for their outrageous wealth and display of power. Their madness, weaknesses and courage. And their loves...  
DISCLOSURE: I get commissions for purchases made through some of the links in this article.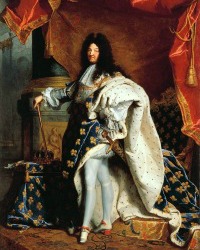 King Louis XIV of France
Since there is no footage or snap shots to watch, the best way of imagining what life must have been in the palaces of Europe is reading books, watch movies and visiting the remaining royal residences. This enables us to go back in time and offer us a glimpse into the life of the 'pop stars' of the past!  

Me and Empress Elisabeth of Austria, one of my favourites!
My name is Jet,  from the Netherlands, one of the few European countries that still has a constitutional monarchy. Other countries that have a royal family are Belgium, Denmark, Liechtenstein, Luxembourg, Monaco, Netherlands, Spain, Sweden, United Kingdom. In most of these countries the monarch has a ceremonial role these days.
On this website I have gathered stories of famous European palaces, the people that lived there and details of their life. And, if you really want to get into it, I have added  some tips on spending the night in a European castle! 
Have fun peeking!
Palaces of Europe by country

While Austria was ruled by the holy roman empire a char ruled Russia and Italy was divided into several small city states and kingdoms where the Doge ruled Venice and a Queen resided in Parma. They left a wide variety of palaces and castles in almost all countries in Europe. Here are some of my favourites.

---
Kingdom of the Netherlands
---
Palaces of Europe, who live(d) there?
Due to centuries of marriage politics the royal families that exist today are almost all related to one another. Marriages where political, for love the kings and queens of Europe had to look elsewhere. 
I gathered some stories, not only of the famous royals, but also of the royal Mistress, the King's sister, the maid. What did they do, eat, wear, where did the sleep and what did they do for fun?  You can find some of their stories here.
In the menu below, you will find stories about the famous king Louis the 14th and Empress Sissi.
Also meet the last mistress of Louis the 15th, the sister of the crown prince of Austria and the children of Marie Antoinette.
---
---
Exploring the Palaces of Europe
Where did Empress Elisabeth stay during her never-ending journeys across Europe? And what castle do I visit when I want to go ghost hunting? Can I visit the castle where they filmed the famous Sissi Trilogy, or that beautiful movie Marie Antoinette? 

Look no further, you will find all the answers here:
---
Sleeping in the Palaces of Europe
When you have the chance, spending the night in a castle will really make you feel like royalty for a few days! 
Many European castles have opened their doors to commoners like us and are transformed into a luxury hotel or simple bed & Breakfast. You can also put up your tent in the castle garden and enjoy the scenery from there. 
So take your pick and choose your favourite stay; a Scottish castle, German Schloss, French chateau, or Dutch landgoed. Here are some other suggestions:
---