Origin of the Habsburg empire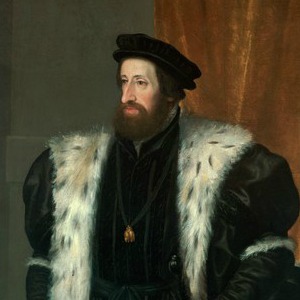 Emperor Ferdinand I (1503 – 1564) by Hans Bocksberger der Aeltere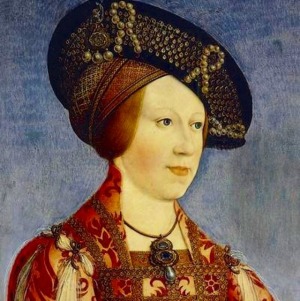 His Wife Anna of Bohemia and Hungary (1503 – 1547). She brought the thrones of Bohemia and Hungary to the Habsburg House.
The origin of the Habsburg empire is found in 1506. The Holy Roman Emperor Maximilian I and King Vladislaus II Jagiello of Bohemia agreed to a double marriage contract. Maximilian's youngest grandson Ferdinand married Vladislaus' daughter Anna.
At the same time, they agree that Maximilian's granddaughter Maria would marry the yet unborn (!) child of Vladislaus ' pregnant wife. Luckily she delivered a boy (Louis), so also this marriage could proceed.
In 1521 Ferdinand and Anna got married, and in 1522 Maria and Louis also got married. These strategic marriages had to provide a solid dynasty.  This was necessary to offer resistance against the advancing Ottoman Turks.
It worked; after the death of King Vladislaus II his territories went to the Habsburgers. The Habsburg House reigned large parts of Europe until 1918. They also delivered the holy roman emperor very often.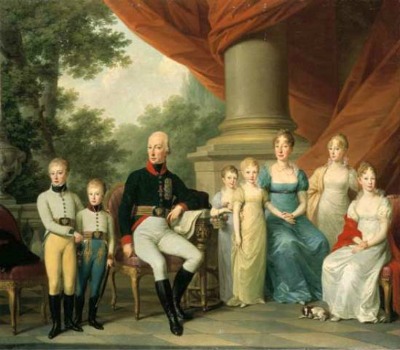 The Austrian imperial family around 1805, by Joseph Kreutzinger. On the rights is Archduchess Maria Louise, the later Empress Marie Louise of France
Francis was afraid of two things. He could become lower in rank than Emperor Napoleon and the Russian Tsar. Or even worse, Napoleon could take over the title of Holy Roman Emperor.
Francis abdicated on 6 August 1806 as Holy Roman Emperor and disbanded the Holy Roman Empire altogether.   He replaced it with the Empire of Austria. He himself became the hereditary emperor Francis I. 
Painting by Georges Rouget of the marriage ceremony of Napoleon with Marie Louise of Austria in the Louvre chapel, 2 April 1810.
In 1810 Napoleon defeated him on another issue. He married Frances'daughter Archduchess Marie Louise of Austria. Napoleon wanted a wife from an old royal house to give him some Royal allure. He also needed a successor, since he had no legitimate son yet.
Francis II could not refuse Napoleon at the time, but he always felt it as his greatest disgrace, to be the father-in-law of Napoleon!
He proceeded with the wars against Napoleon and finally triumphed in 1815 with the battle of Waterloo.