Starring Ashford Castle
Reign, created by Stephanie Sen Gupta and Laurie McCarthy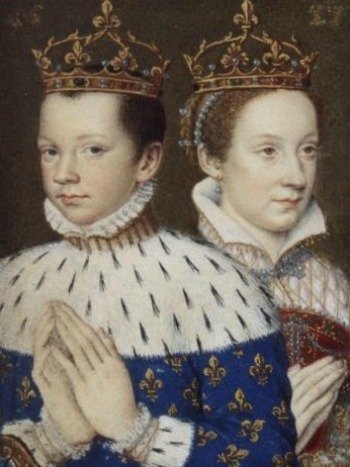 King Francis II of France and his wife, Mary Stuart, Queen of Scotland
And, since the hotel staff still treats every visitor like royalty I am certainly putting Ashford Castle Hotel on my bucket list!

Reign, the TV series about Mary Stuart, queen of Scots.
To be honoust, this is not one of my favourites, I did not even finish it! It is just not historically accurate enough. The dresses, lovely as they are, , they're not the ones that people wore at court in the 16th century. The characters are not accurate either. There are non-existing half-brothers and princess from foreign counties wooing Mary all the time. 

And that  palace where the French Court of king Henry II of France and his wife Catherine de' Medici is filmed; it really looks a bit too much like a fairy tale castle to be real. It must be fake! Or isn't it?

After some digging on the web, I found the palace film location is a real Castle, and it is like a fairy tale! It is not located in France though. Ashford Castle, where the French court scenes of Reign are filmed, is a five star-hotel in Cong, County Mayo, Ireland.

Ashford Castle
In 1951 the hotel had been the location for another film; The Quiet Man, starring John Wayne and Maureen O'Hara.
You can watch this film in the luxurious cinema of the hotel, or explore the castle grounds for scene locations from the film or the TV series.
You can also go horseback riding, pet the Irish Wolfhounds, join the falconry or spend your day in the billiard room. In other words, exactly the pass-times that royals used to spend their days with.
---