The palace of Barbara Palmer (Villiers), mistress of Charles II
How to lose your palace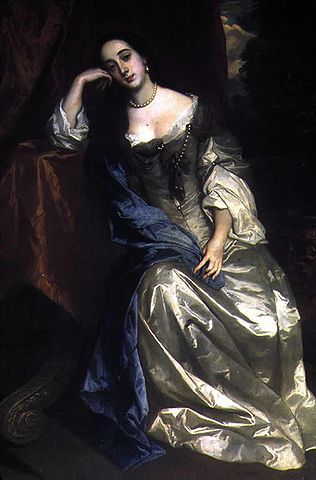 Barbara Villiers by Peter Lely
Barbara, Countess of Castlemaine, 1st Duchess of Cleveland was a favourite mistress of King Charles II of England. She stayed his favourite for almost fourteen years. Both titles that she had were given to her by the King, as she was born into the impoverished Villiers family. In 1659 she married Roger Palmer, and not even a  year later she started her affair with the King. 
During her time as mistress and Lady of the Bedchamber to Queen Catherine, she gained considerable wealth, and not only from the king's gifts. She helped herself to money from the Privy purse (the personal income of the King), and even took bribes from the Spanish and the French.
In June 1670 Charles gave her Nonsuch Palace and made her Baroness Nonsuch. The name of the Palace and title says it all, there was no other like it. The title was all that remained when she died at the age of 68 on October 9th, 1709 at Chiswick. 
How did she lose her wealth and palace? 
Although she always had competition, since Charles II certainly loved women, her downfall started around 1667 when Nell Gwyn came into the spotlight. 

Nonsuch Palace, a gift of king Charles II of England to his mistress Barbara Villiers
She did as the king and took other lovers, who benefited financially from her. The king couldn't care less about her infidelity, he only advised her not to cause any scandal. She did not follow this advice very well.

Around 1682–3 she had Nonsuch Palace pulled down and sold off the building materials to pay her gambling debts. It is said that she lost £20,000, worth about £2.6 million in contemporary money, in just one night's gambling. The Nonsuch Palace and estate were already in need of expensive renovations, and it drained Barbara's resources. This way she could make some money out of it.
The king died in February 1685. Barbara, aged forty-five, continued to have lovers. She could only remarry after her first husband Roger Palmer died in 1705, as she did. Her choice of husband was poor, she remarries Major General Robert "Beau" Fielding. He turned out to be a fortune hunter, who had many mistresses himself. He went as far as having an affair with one of Barbara's granddaughters, with whom he had a child.  In the end, it even turned out he already had a wife when he married Barbara, so she had to sue him for bigamy.  Their marriage was declared void in 1707.  By then she lost almost all her wealth and had broken down her Palace. She died at the age of 68 in Walpole House in Chiswick, where she still haunts to this day.