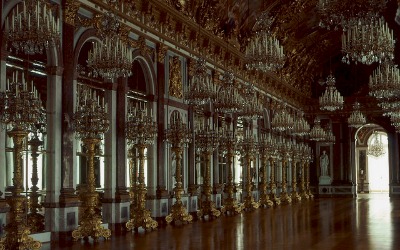 Great hall of mirrors, Schloss Herrenchiemsee
Schloss Herrenchiemsee should surpass the palace of Versailles and a lot of rooms are copies of the rooms in Versailles.
There is a great hall of mirrors like the one in Versailles. The ceiling of the Hall of Mirrors in Herrenchiemsee show paintings of Louis XIV. 
In the centre of the palace is the state bedchamber, just like the one the Sun king used to sleep in and meet his courtiers every morning and every evening.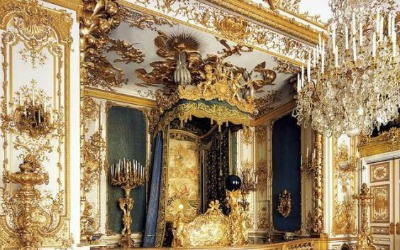 Ludwig II did not use this bedroom, he used a 'smaller' room where the blue ball on the end of his bed would lit his room. 

In fact, Ludwig only spends 10 days in the palace in September 1885. After his death in 1886 it was never inhabited again.