Tudor Court Life in Hampton Court Palace
Henry VIII expanded and renovated the palace, making it one of his favourite residences.

Life in this Tudor palace was quite a whirlwind of masquerades, feasts, and politics. Although it might sound glamorous, courtiers were constantly scrambling to keep or elevate their positions. The flamboyant court life Henry enjoyed was renowned throughout Europe, making the palace an emblem of his wealth and power.
The palace was the setting for many important events during Henry VIII's reign. It was here that the king married five of his six wives and held lavish courtly entertainments. Hampton Court Palace was also a center of power and intrigue, and it played a significant role in the English Reformation.
Unexpected Evidence of the Six Wives of Henry VIII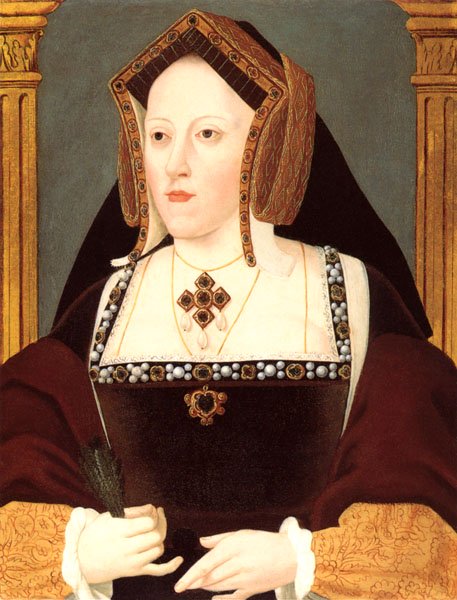 Hampton Court is the only palace to have housed all of Henry VIII's six wives. While visiting, you can spot remnants of the lives they led.
Catherine of Aragon was the first wife of King Henry VIII, and they were married from 1509 to 1533. Hampton Court Palace was one of Henry VIII's favorite residences, and he and Catherine spent a lot of time there.
Catherine of Aragon was a popular figure at court and was known for her intelligence, piety, and kindness. She was also a skilled musician and artist. Catherine of Aragon was a devoted wife and mother, and she bore Henry VIII six children, although only one, Mary I, survived to adulthood.
In 1527, Henry VIII began an affair with Anne Boleyn. He wanted to marry Anne, but Catherine of Aragon refused to grant him a divorce. Henry VIII eventually had the marriage annulled by the Pope, but Catherine of Aragon never accepted the annulment. She continued to regard herself as the rightful Queen of England until her death in 1536.
Despite the fact that her marriage to Henry VIII was annulled, Catherine of Aragon was allowed to remain at Hampton Court Palace for several years. However, she was eventually forced to leave the palace and move to Kimbolton Castle, where she died in 1536.
Above this door is a stone arch decorated with Tudor Roses on the right for King Henry and Spanish pomegranates on the left, the symbol for Catherine of Aragon, the first wife of Henry VIII.
Navigate Google indoor maps:
Clicking the square on the right will get you full screen,
Click and hold for looking arond,
Click the arrows to move forward to different directions. 

You can also use the zoom buttons to zoom in and out of the map, and the search bar to search for specific locations within the building.
Anne Boleyn was the second wife of Henry VIII and the mother of Queen Elizabeth I. She was a controversial figure, but she also had a significant impact on Hampton Court Palace. Anne Boleyn was responsible for commissioning many of the palace's most iconic features, including the Great Hall and the Privy Apartments. She also introduced many new fashions and customs to the English court.
The Great Hall was decorated with Anne's initials and coat of arms. When she fell out of grace and lost her head, Henry also tried to chop off all the evidence of her existence from his palace. This had to be done in a hurry, as Anne Boleyn was executed on May 19, 1536. Henry VIII married Jane Seymour on May 30, 1536.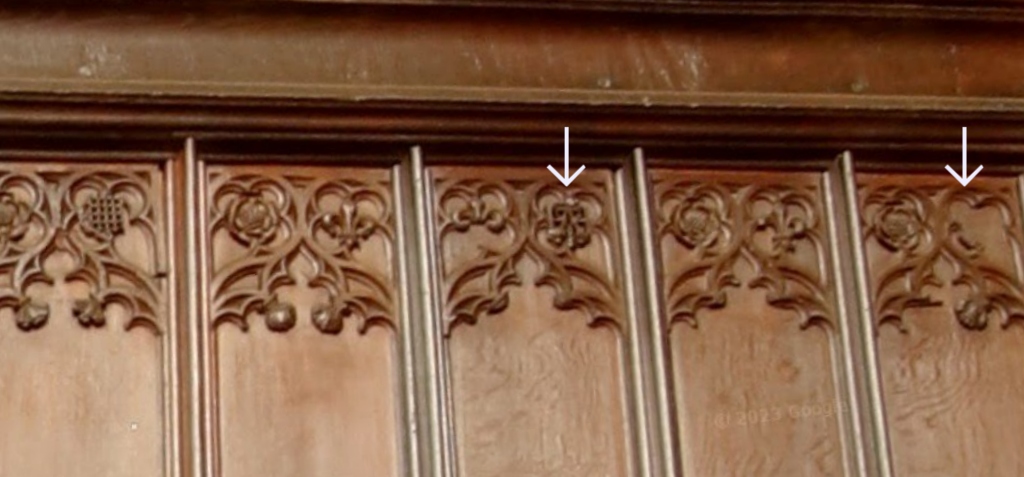 No wonder the carpenters missed a few spots. You can see the intertwined H and A on this wooden panelling, where on the right it is gone, but on the left, it is still there!
Anne Boleyn's symbol - a falcon - is also still carved in the Great Hall's ceiling.

Jane Seymour was the third wife of Henry VIII and the mother of King Edward VI. She was a popular figure at court and was known for her piety and kindness. Jane Seymour died just 12 days after giving birth to Edward VI at Hampton court, but her legacy can still be seen around the Palace. The palace's chapel is dedicated to Jane Seymour, and her tomb is located in the choir.
The chapel is also significant because of the baptism of Edward VI, Jane's son. The ceremony was a lavish affair, attended by many of the most important people in England. It was the first time that a child of the English monarch had been baptized in the Protestant faith. The ceremony was also a symbol of Henry VIII's break with the Catholic Church.
Anne of Cleves was the fourth wife of Henry VIII. She was married to the king for just six months before he had the marriage annulled. Anne of Cleves was not a popular figure at court, but she did leave her mark on Hampton Court Palace. The palace's Anne of Cleves Gatehouse is named after her.


Katherine Howard was the fifth wife of Henry VIII. She was a young and beautiful woman, but she was also unfaithful to the king. Katherine Howard was executed for treason in 1542, but her legacy can still be seen at Hampton Court Palace. Her initials, "KH," and her coat of arms, a lion rampant, can be found carved into the walls and doorways of Hampton Court Palace. These carvings are located throughout the palace, including in the Great Hall, the Privy Apartments, and the Chapel Royal.


Catherine Parr was the sixth and final wife of Henry VIII. She was an intelligent and compassionate woman, and she helped to care for the king during his final years. Catherine Parr survived Henry VIII and went on to marry Thomas Seymour. She died in 1548, but her legacy can still be seen at Hampton Court Palace. The palace's Catherine Parr Apartments are named after her.