Princess Louise of Belgium and her sister, Crown Princess Stéphanie.
King Leopold was certainly not happy with having 3 daughters. Especially after his only son and heir died at the age of nine.

As all royals did, he used his daughters to strengthen his ties with other Royal houses by arranging marriages for them.
His eldest daughter, Princess Louise,  married Prince Philip of Saxe-Coburg-Gotha at the age of seventeen.   Prince Philip as thirty-one at the time. He was her second cousin. Her grandfather King Leopold I and his grandfather Prince Ferdinand of Saxe-Coburg and Gotha were brothers.
The official wedding picture of Princess Louise of Belgium and Prince Philip of Saxe-Coburg and Gotha, 4 May 1875
Princess Louise's married live
After the marriage the couple first moved to Budapest, but later went to live in Vienna. They lived at the Coburg Palace, which is a hotel today, the Palais Coburg Residenz.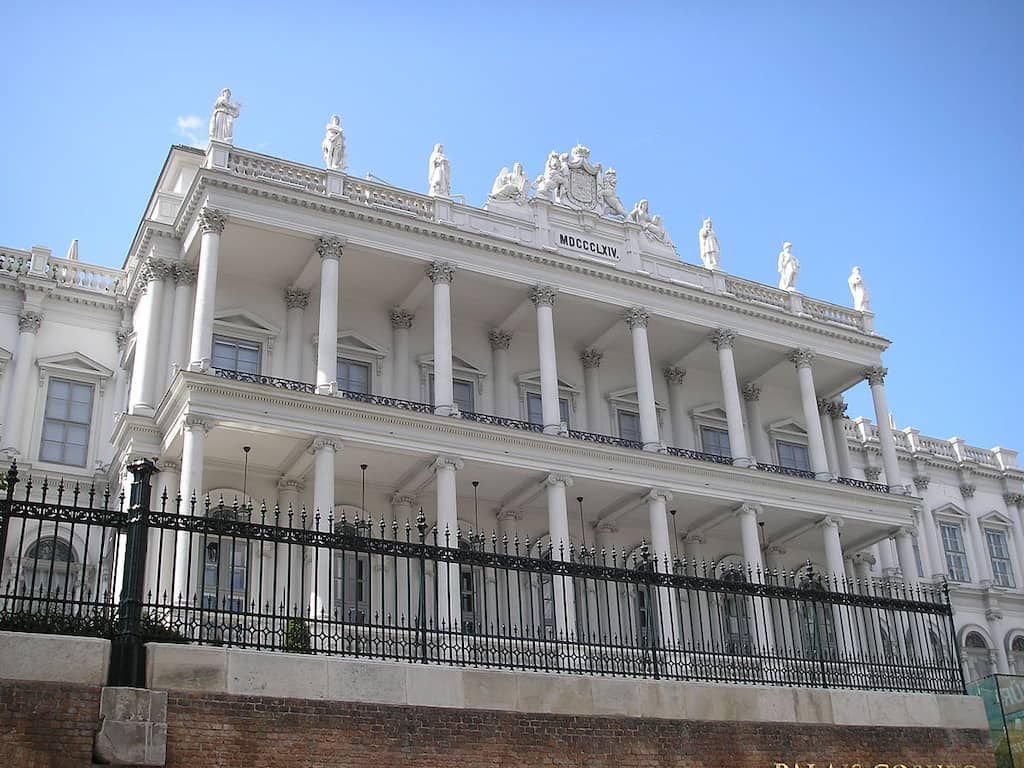 Palais Coburg Residenz
They were included in the circle of Franz Joseph, Elisabeth and the imperial family. Louise's sister Princess Stéphanie was married to Crown Prince Rudolf. Louise and Crown Prince Rudolf got along very well, and she claimed her sister  Princess Stéphanie was much like her.  She recommended that they got married, and so they did in 1875.  This marriage was desastreus and ended with Rudolf committing suicide together with his mistress at Mayerling. Little misjudgment on the part of Princess Louise. But until then the sisters at least were close to each other.
After the marriage Prince Phillip went on partying exactly as he had done before. He had no respect for marital fidelity. Princess Louise also had various affairs. The marriage was not a success, Louise usually called her husband 'der Dicke' (the fat one).
They did manage to have two children together . A a son, Prince Leopold Clement Philipp August Maria of Saxe-Coburg and Gotha (19 July 1878 – 27 April 1916) and a daughter, Dorothea, Duchess of Schleswig-Holstein (30 April 1881-21 January 1967).
the Ducal family of Saxe-Coburg-Gotha
Prince Phillip and Princess Louise are on the right in this family picture.
The others are (fltr) Duchess Amalie in Bavaria née Princess of Saxe-Coburg-Gotha (wife of Duke Max Emanuel), Duke Max Emanuel in Bavaria, Prince Ludwig August of Coburg, Prince Ferdinand of Coburg, Princess Clothilde of Saxe-Coburg-Gotha (wife of Archduke Joseph), Archduke Joseph Karl Ludwig of Austria.
What a happy bunch!
Louise of Belgium meets her lover
Géza Mattachich
Then, during a ride in the prater, Princess Louise met the love of her life, count Géza von Mattachich-Keglevich. This self-proclaimed count was a Croatian Lieutenant in the Austro-Hungarian army.
Geza took his title and the second surname from Oskar Keglevich, the count of Buzin. This guy had a relationship with his mother, but had no relations to her son. Mattachich's real father was a common man, and his mother Anna a illegitimate daughter of a priest.
Count Oskar Keglevich had a long time affair with the mother of Geza. When his father kicked him out of the schloss Lobor because of this affair, he simply moved in with his mistress and her family.  
15 Years later, when his father died, the Count inherit Lobor castle and he went to live there, together with his beloved.  Geza went with his mother,. His father remained behind and agreed to a divorce only after some time (and after a generous fee of the Earl). The count could finally marry Anna and adopted her son. Long before that happened Geza used the surname and the title of count.
Lobor Castle is now a home for the mentally ill.

This young ´count´, at least 10 years younger than Princess Louise, who was 37 when they met, tried to impress her with his horsemanship. He made sure that he often ran into her and they became lovers. Mattatich was very happy with this conquest, far above his booth. As a man of honour he remained loyal to the Princess until his death (although not always faithful...). The couple made no secret of the affair, and eventually Louise is summoned by emperor Franz Joseph. As a result, the count and the princess eloped to Nice, France. On the orders of emperor Franz Joseph Prince Philipp challenged Geza to a duel. Phillip lost and had to go back home humiliated. Geza went back to Louise in Nice.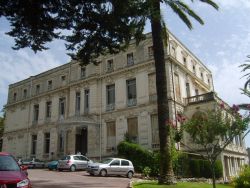 Villa Paradise
The couple staid there for a few years in the Villa Paradise where they led a frivol and exuberant life. Traders, Jewellers and merchants are happy to supply credit to the couple, thinking that Prince Phillip or Louise's father, King Leopold will eventually pay the bills.
Initially, Prince Philip does this to try to prevent an even bigger scandal. Eventually he has a message put in the newspaper to report that he no longer takes responsibility for the debts of his wife. King Leopold does not supports his daughter either. He even deletes her from his will. (at his death, most of his wealth goes to his mistress Caroline Lacroix and to the Belgian State, leaving his three his daughters with almost nothing!)