Divorce of Napoleon and Josephine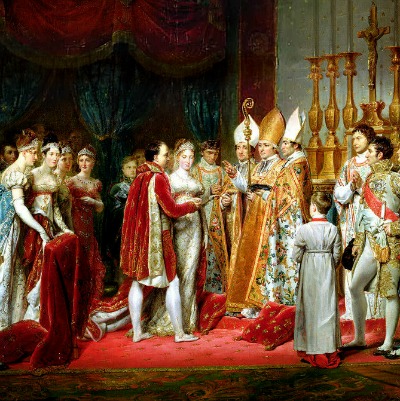 The Mariage of Napoleon and Marie Louise
Despite this great love between Napoleon and Josephine the marriage ended prematurely anyway. In 1810 Napoleon realized Josephine would not be able to give him the long-expected heir to the throne. She was 43 years old and had never been pregnant since they got together. 
He divorced her but showed his love by giving her several rights. She was allowed to continue to use the title Empress. And he gave her the beloved Chateau de Malmaison where, with some interruptions, she lived until her death. 
Josephine continued to lead a mondaine life and organized celebrations, parties and balls.
Napoleon married the young Marie Louise of Austria, who finally gave him a son.
On March 20,1811, Prince Napoleon François Charles Joseph Bonaparte was born (Napoleon II). 
Ironic is the fact that Napoleon II never ruled over France as his father would have wished. He died childless while in exile in Austria at the age of 21.
The two children that Josephine had with her first husband provided descendants in many European royal families. 
Josephine's daughter Hortense de Beauharnais married Louis, the brother of Napoleon I and became Queen of the Netherlands. And it was Hortense's son, Napoleon III, who would become the second Emperor of France!
Josephine's son Eugene married Princess Augusta of Bavaria. This happy couple had seven children, who all ended up in aristocratic and royal families around Europe. Eugene's eldest daughter, named after Josephine by request of Napoleon I, married King Oscar I and became Queen Josephine of Sweden.
After the major defeat in the battle of Leipzig Napoleon's reign was almost over and he was exiled to Elba. On February 26, 1815 he manages to escape and return to France. This was the start of his hundred days, which ended with the battle of Waterloo on June 18, 1815. Now he was exiled to the other side of the world on the tiny Island of St. Helena.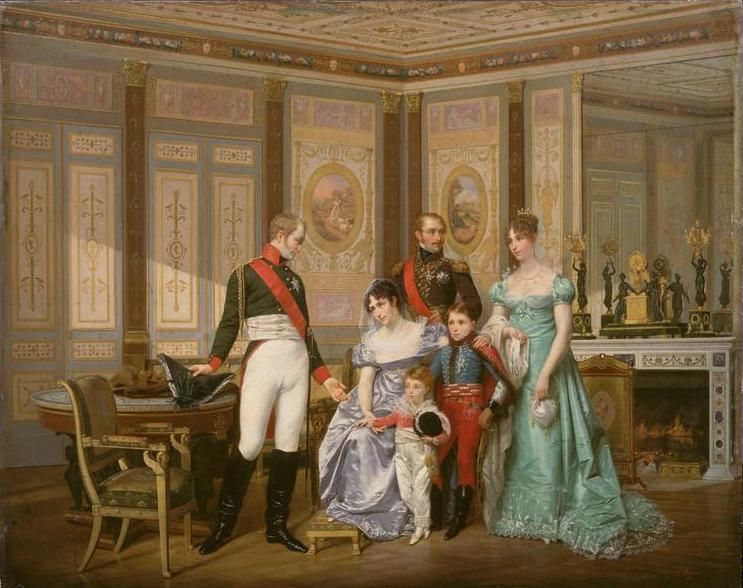 The visit of Tsar Alexander I to Malmaison by Hector Viger.
Tsar Alexander I entered Paris victoriously where he contacts ex-Empress Josephine.
Josephine received the handsome Czar at the Château de Malmaison. What her motives are not entirely clear, but Josephine is probably looking for a new patron now the cards are reshuffled in Europe. All that she owns, including her title, she received from Napoleon, who is now defeated. 
With here refined approach Josephine charmed the most diverse people, not rarely out on material gain.
The Tsar was no exception and was enchanted by Josephine immediately. He even invites Josephine to live in St. Petersburg. But it never came to that.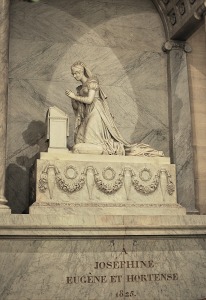 Tomb of Josephine de Beauharnais, Eglise Saint Pierre Saint Paul
After a meal, Josephine and Tsar Alexander wandered in the rose garden for a while and she showed him her greenhouse.
She caught pneumonia that night and died only a few days later, on May 29, 1814 on the first floor of her beloved Castle. She is buried in the nearby church of Saint Pierre-Saint Paul in Rueil.  
On St. Helena, Napoleon wrote:
"Josephine is the only woman I have ever truly loved. She reigns in my heart and I mourn for her."