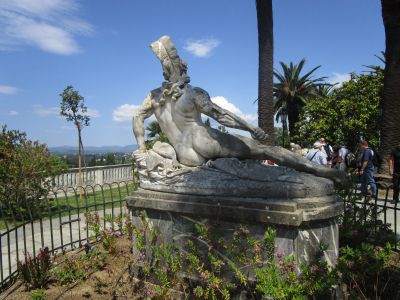 Statue of the wounded Achilles at the gardens of Achilleion Palace
The Palace is located on a hill near the little village of Gastouri, and has great views over the surrounding hills, the sea and Kerkyra (Corfu city) in the distance.
Sisi (or in fact Franz-Joseph) bought all the surrounding land that leads down to the sea This gave her access to the estate when arriving by boat.
The  Italian architect Raffaele Caritto did a wonderful job designing a lovely little palace in honour of the Greek hero Achilles. 

Ernst Herter, a German sculptor, created numerous works inspired from Greek mythology, the centrepiece  being "The Wounded Achilles". Sisi placed this statue on the most prominent place in her garden.