Duchess Helene in Bavaria, Sisi's sister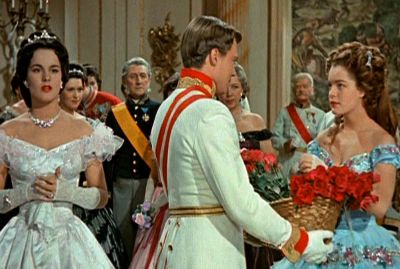 The most devastating scene in the Sissi film is of course,  when Franz Joseph appears with his flowers, walks straight past Helene and gives them to Sisi instead. The horror! The humiliation!
Hopefully, in reality, Franz Joseph had a more diplomatic approach when he decided he wanted to marry the younger sister. If not, it could be the reason why Helene looks so angry on all her pictures!
Helene travelled to Bad Ischl in 1853 together with her mother, Ludovika, and her sister Sisi, with only one single goal in mind, getting engaged to Emperor Franz Joseph.

Duchess Helene in Bavaria
This is what their mothers, Princess Ludovika of Bavaria and  Archduchess Sophie of Austria  set up for them.
Ludovika and Sophie are sisters, both daughters of Maximilian I of Bavaria. This means both Helene and Sisi are first cousins of Emperor Franz-Joseph. 

Helene is trilled by the idea of becoming the Austrian Empress, and she is well equipped for the job. She is obedient and pious and has the right age.
But the intriguing mothers and Helene did not take account of Franz Joseph's opinion. When he met the 15-year-old Sisi, he fell head over heels in love with her, and he chose her as his wife, instead of Helene.
Sisi and Franz-Joseph are engaged immediately and get married very soon. Duchess Helene has to go back to Possenhofen alone.