Life in France
In 1793 the Bonaparte family had to flee Corsica because of their pro-France attitude and seek refuge on the French Mainland. Napoleon's father had already died by then and left Letizia in debts with eight children to look after.  She had 13 children in total with Carlo, but five of them died in childhood.
She lived in Marseille for a while, depending on charity. Fortunately, by then the star of Napoleon was rising, enabling him to rent better houses in Marseille for his mother and siblings.

In 1797 she was able to return to the Maison Bonaparte on Corsica.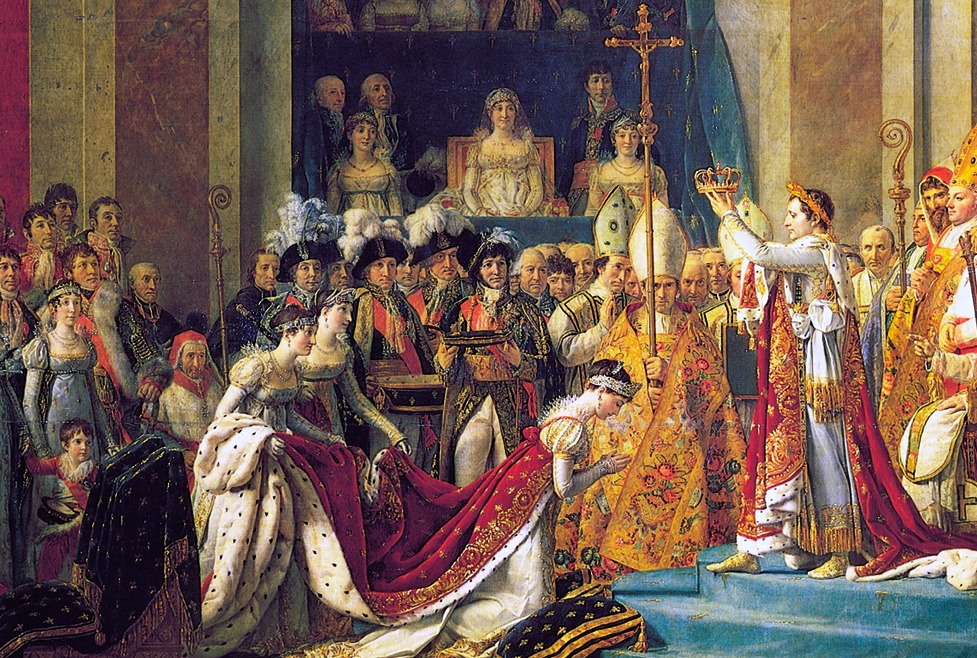 The Coronation of Napoleon, by Jacques-Louis David 1807. Letizia is painted on the balcony in the middle. In reality she did not attend the ceremony.
In 1804 Napoleon became the emperor of France, and Letizia became "Madame Mère de Sa Majesté l'Empereur".
Letizia was not impressed by her son's new status and still disagreed with him on many occasions. She tried to influence him whenever she could. 
She even boycotted the coronation because she did not agree with her son's decision on the imperial succession.
Another reason for the boycott was Josephine. She was not very fond of her daughter in law and did not want to witness her receiving the imperial crown. 
Napoleon simply changed history; he ordered the painter Jacques-Louis David to include his mother in the painting of the ceremony anyway, even though she was not there! He painted her in a very prominent spot, looks like the most important place in the room.