Hortense de Beauharnais, Reine de Hollande ( Queen of Holland)
In 1802 Hortense is ready to get married, and Napoleon knows exactly the right guy for her. It is his own brother Louis Napoléon Bonaparte. Hortense is not at all thrilled by this match, but her mother Josephine encourages her.
She and Napoleon have their ulterior motives to promote this marriage.  The marriage will strengthen Josephine's own positions within the Bonaparte family. Napoleon and Josephine have been married for six years now, and it looks like they will not be having children together.  People around him, especially his own family, are already encouraging him to divorce Josephine because of the lack of an heir.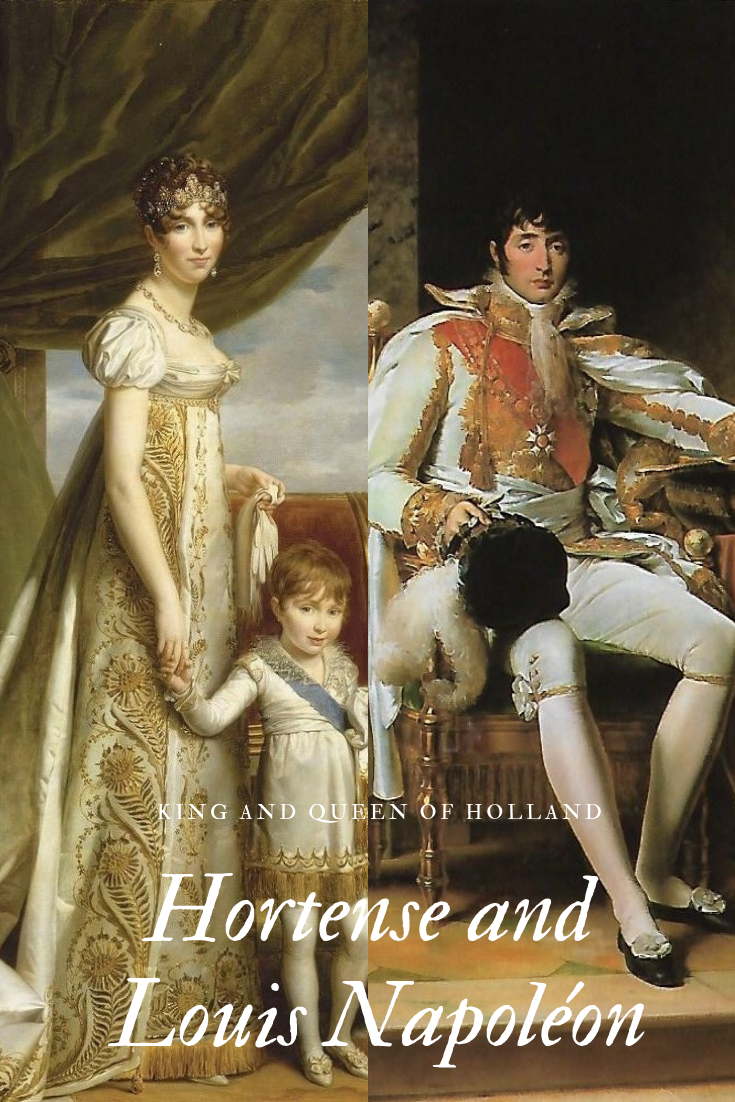 Always thinking ahead, Napoleon had the following plan in mind. When Hortense and Louis Bonaparte got married and have a son, Napoleon would recognize this child as his heir.  This way he can avoid divorcing Josephine and still have the Bonaparte name and bloodline intact. Hortense, obedient as she is, caves in, even though she is in love with Duroc, a military in Napoleon´s army.  
The couple gets married and settle in the Rue Cerutti (nowadays Rue Laffitte) in Paris. Here the first two children are born, Napoléon Charles in 1802 and Napoléon Louis in 1804.  In this same year, Napoleon and Josephine become the emperor and empress of France. Napoleon rearranged his pawns on his European playing field. Louis Napoléon is crowned king of Holland in 1806, and Hortense and the children follow him to the small country in the North. 
She hates it! There is no real court life in Holland, the palaces are small and dark, the canals smell, and the weather is bad. Hortense only spends a few months in Holland during the reign of Louis, from 1806-1810.
By that time it is clear that her marriage is a failure. The final straw is the death of her first-born son in 1807. She is heartbroken and requests Napoleon to be allowed back to France. The reason she gives is that she fears for the life of her other son Napoléon Louis. In reality, she wants to leave the dreadful, lonely life in Holland and get away from her husband, who treats her like a prisoner.
She goes back to Paris and stays in the Rue Cerutti again, without her husband. She travels through Europe to get her strength and spirits back. The birth of her third son is evidence of a short uplift of her marital life with Louis in 1807. This does not last and Hortense and Louis live separate lives from this point. 

Louis is happy in Holland, and takes his job as King very serious, far more serious that Napoleon wants him to. The Dutch people become quite fond of him, as he tries to learn the language and defends the Dutch interests. 
Napoleon thought he had sent a puppet on a string, but Louis becomes more and more unwilling to cooperate. This leads to his forced abdication in 1810.
By the time Hortense finds out she is pregnant with her third child, she knows that her husband has not changed a bit. He is maniacally jealous and never has any interest in the needs of his wife. She stays in Paris to give birth to Louis-Napoléon in April 1808. After that Napoleon allows her to stay there. 
Napoleon still has a desire to adopt Napoléon Louis. He is afraid that the children might die in the Netherlands, like their oldest brother. 
On December 15th, 1809 the divorce of Napoleon and Josephine is enounced at last. Napoleon needs an heir, and Hortense is not willing to give up her son to him. So he has to find a new wife who will give him children. Josephine is devastated, The Bonapartes are ecstatic, except for Napoleon himself. He cries during the ceremony.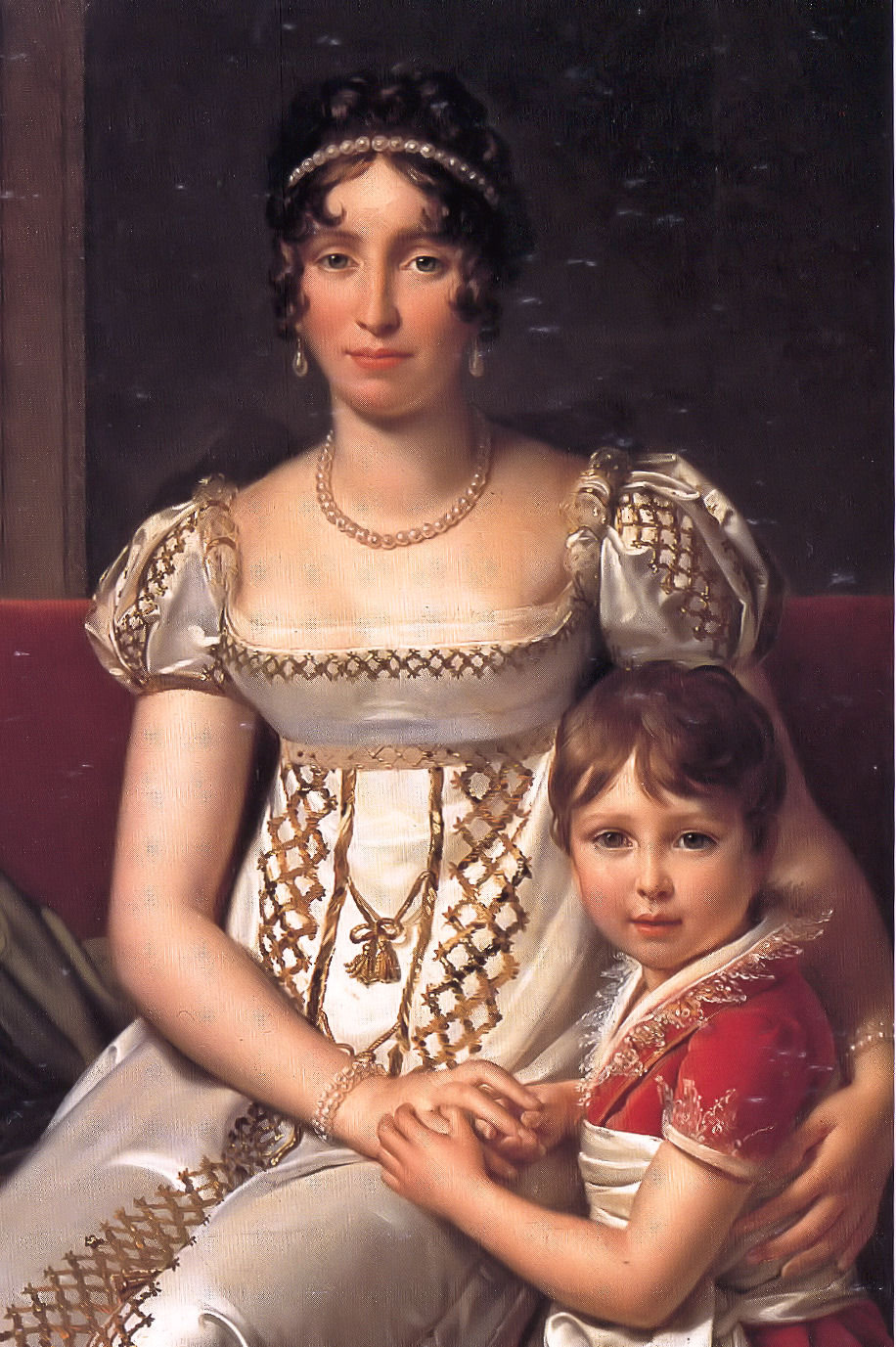 Hortense de Beauharnais with her son Napoleon Charles Bonaparte
Hortense only returns to Holland for a brief period in 1810. King Louis Napoléon forces Hortense to come back to Holland and Napoleon does not back her this time. He has found himself a new wife and feels it is not appropriate to have the daughter of his ex-wife at court. She agrees to go but leaves the little Louis-Napoléon in France. 

She stays in Utrecht for a while, were Louis-Napoléon has created a new palace from old buildings at the Wittevrouwenstraat 1-11. Nowadays the University Library is located there. Then they leave for Amsterdam where Louis has confiscated the Paleis op de Dam. This large, ugly and cold place depresses Hortense even more. She is completely isolated there, and her health is deteriorating rapidly.

Louis allows her to leave for Paleis het Loo, in the countryside near Apeldoorn, to get some fresh air.  She has to leave her oldest son behind though, and she finds no relief in 't Loo either. She realizes it is not the Dutch air that makes her sick. It is the suffocating relationship that she has with Louis. She makes up her mind and in 1810 she leaves her kingdom, king and son behind. She travels to Plombieres, allegedly to visit the thermal spa. She never returns.

Around the same time, King Louis Napoleon realizes that he can never win from his brother Napoleon. The French army is already knocking on the gates of Amsterdam. He takes desperate measures to keep his honour and to protect the interests of the Dutch Population. He knows they cannot win from the French army and would suffer immensely if he does not give in to his brother.

He abdicates on 1 July 1810 and names his oldest son Napoleon Louis the new King of Holland. Since the 5-year-old kid is not ready to rule, he names Hortense his regent! And in the middle of the night, he flees the country, leaving his son, King Louis II behind with his governess.
As soon as Hortense hears of Louis´s disappearance she sends someone to Holland to pick up her son. Napoleon beats her to it. He has the boy bring to Sains-Cloud, where he is reunited with his little brother and his grandmother Josephine. 9 days after the abdication of  King Louis Napoleon Napoleon invades and annexes Holland into the French Empire.