The 'Muiderkring'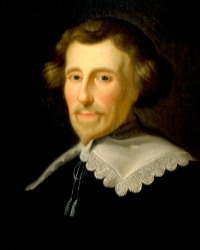 Pieter Corneliszoon Hooft (1581–1647)
After the murder of count Floris V, the Bishop Willem van Mechelen captured the Castle and it was probably partly destroyed. With control over the Muiderslot, the Bishop guaranteed free passage over the river Vecht from Utrecht.
Almost a century later, around 1370, the castle was rebuilt on its old foundations by Count Albrecht of Bavaria ((1336-1404). Count Albrecht is the grandfather of Jacqueline, Countess of Hainaut.
In the seventeenth century the poet, drama writer and historian P.C. Hooft inhabited the Muiderslot. He made the Castle a meeting place for the Muiderkring, a group of writers, artists and scholars. Among others, Vondel and Bredero were welcome guests there.

Besides being a writer, Hooft held all kinds of public functions, including those of bailiff of Muiden and the Gooiland and sheriff of Muiden. In that role, he inhabited the Castle for 38 years.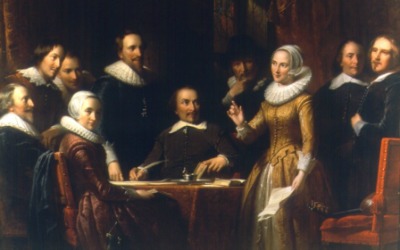 Muiderkring, by Jan Adam Kruseman
The Muiderkring, from left to right: Jacob Cats, Constantijn Huygens, Laurens Reael, Anna Roemers Visscher, Pieter Cornelisz Hooft, Joost van den Vondel, Roemer Visscher, Maria Roemers Visscher, Tesselschade named, Caspar van Baerle en Daniël Heinsius.