Competing with the Sun King
Such an important monarch naturally needed a nice Palace to show off his power.  The Audience Hall and great staircase of Paleis het Loo were designed to impress guests. The gardens of the Palace were famous throughout Europe.
Famous gardens of Paleis Het Loo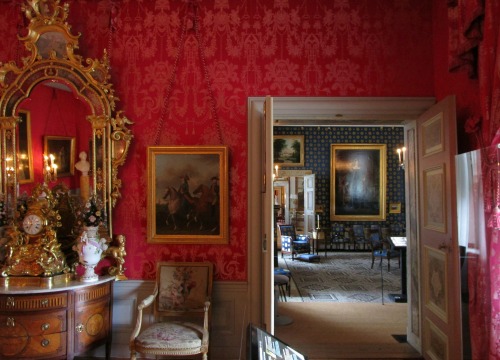 Paleis Het Loo - drawing-room of Stadtholder Willem V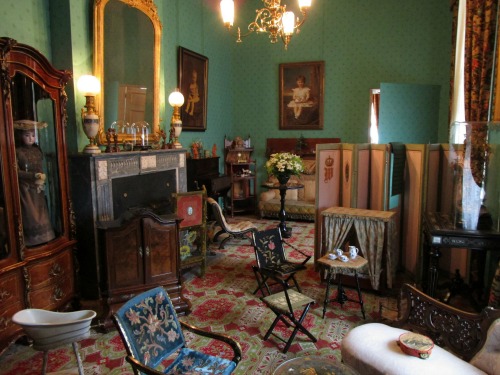 Het Loo- Queen Wilhelmina's playroom
William III was a contemporary of Louis XIV, the Sun King.
King Louis XIV was both William's biggest enemy as well as his greatest example.
The Court culture of Versailles during Louis XIV was leading in Europe at that time. Like all European courts, he followed the French fashion closely. Like Louis, he had a garden full of fountains and waterworks of which they were jealous of at Versailles. Louis was always struggling to get enough water to his gardens. William had his fountains spray thirteen metres high without any effort, higher than the ones in Versailles!
For William III and his contemporaries, the garden was just as important as the Palace. Garden and Palace belonged together, the garden was called the ' Buytensael ' (outdoor room). In the 17th century Garden and the Palace where known as the ' ensemble ', to make it clear that they must be seen as a whole.
Another aspect that made the Dutch garden special was the contribution of the Dutch East India Company (VOC). They provided a constant supply of special exotic plants and flowers from the far East which where exhibited in the gardens. For example, tulips were still very special in the 17th century.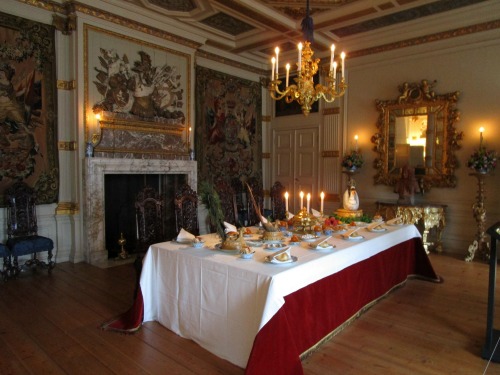 Clothing, state dinners, parties, the furnishings of and the regime and etiquette at Court, all designed after French model.
Like competitor Louis XIV, William III danced in ballets that were given to the Court.
During a State Banquet the King surrounded himself with other heads of State, politicians, diplomats and influential individuals from society. Such a banquet was the perfect way to show the royal's power and status.
The exquisitely set tables with cutlery and plates of gold, silver or porcelain, with crystal glasses and with gorgeous table decorations often remained a few days extra, so that the common people could come visit and admire all this wealth.
As in Versailles, citizens were allowed to watch King-stadtholder William III having a meal.
Despite the admiration he felt for the Sun King, William III would stay at war with King Louis XIV of France his whole life. His wife Mary died of smallpox at the very young age of 32. They had no children, so he had no one to share his beautiful palace with.