Kasteel de Haar garden and park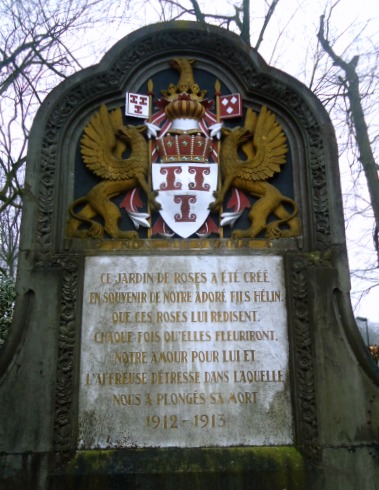 The Baronnes had another wish, to have beautiful Castle garden surrounding here Castle.
Problem was that the village of Haarzuylen was just outside the castle, so they simply decided to move the complete village!  Pierre Cuypers designed a new village for the people who lived there, and they did not mind at all. They all were moved to new houses with electricity and running water. If you have the change pay a visit to this village after you have visited the Castle, it is lovely.
Now the grounds were empty and ready to become a park. But the Baron and Baroness did not want to wait years and rears for new trees to grow, so they took trees of 40-60 years old from the Utrechtse Heuvelrug, and transported them to the Caste garden. 7000 (!) Trees were moved through the narrow streets of Utrecht, and if  necesarry, houses were bought and demolished to make place for this operation.
In the rosegarden you can find a broken column in memory of Hélin (1888-1912), the eldest son of Baron Etienne  who died in 1912 at the age of 24 by a tragic car accident.
The accident was extra tragic because his parents both loved all that was modern and new, and therefore loved cars city-to-city races that became very popular in the first decade of the 20th century ( for who could afford is of course). The Baroness was one of the first women in Europe who could drive!

Now the castle was ready to welcome guests. The family only used the castle in September, but six months in advance the staff had to start the preparations. Famous international guests from all over the world slept in one of the 20 bedrooms. Amongst others Brigitte Bardot, Roger Moore, Gregory Peck, Maria Calles, Coco Chanel and Joan Collins were guests at the Castle. 
To make sure the family and their guest had all the luxury that they were used to the Castle had central heating, electricity and plumbing, which was of course not the case in the old castle that they tried to rebuild.
The kitchen was also very modern and has a huge coal fired stove of about 6 meters long.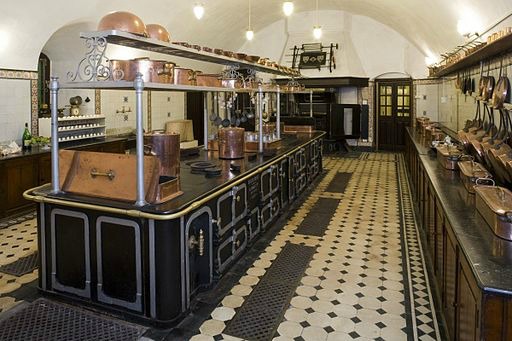 Kitschen at Kasteel de Haar. Foto: Rijksdienst voor het Cultureel Erfgoed via Wikimedia Commons
To keep all the technical installations that made these modern utilities run out of sight a little side castle was built, the Châtelet.  Since 1950 the family Van Zuylen Van Nijevelt, living abroad nowadays most of the year, uses this as a family holiday home.