Kaiserappartements, the Imperial Apartments of the Hofburg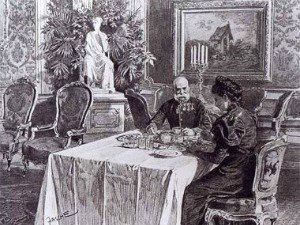 Emperor Franz Joseph and Empress Elisabeth having breakfast in the Hofburg, painted by Theo Zasche
A highlight is a tour around the Kaiserappartements, the Imperial Apartments. There are 22 rooms you can visit  including the rooms of Empress Elisabeth, the bedroom, dressing room and a fitness room with its wooden fitness equipment.
In the Imperial rooms you can also find Sissi's own bathroom, which she had built in 1876. It was the first bathroom in the Palace, the rest of the family washed in a tub behind a folding screen.
In the grand salon you can admire the famous painting of Sisi with stars in her hair. The apartments provide a picture of the daily life of Emperor Franz-Joseph and his wife Elisabeth (Sisi).
In the Silver room you can imagine how the imperial family dined as the eating utensils of the Habsburgs are on display there. 
In the 15th century the Burgkapelle was added to the Hofburg. This was originally a chapel, but nowadays it is a concert hall, home to the famous Wiener Saenger Knaben (Vienna Boys Choir). If they are not on tour, you can listen to them here during the high mass on Sunday morning.
For more information and concert dates visit their website.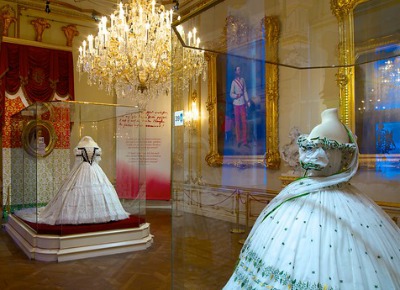 Sisi's dresses, or replica's of them, are at display at the Sisi Museum, together with her bathrobe, umbrella, fans and gloves.