The kaiservilla
The Kaiservilla, emperial summer Palace in Bad Ischl
The kaiservilla in Bad Ischl was the summer residence of Emperor Franz Joseph I and Empress Elisabeth. After the engagement of Emperor Franz Josef I with Princess Elisabeth of Bavaria in 1853, wich took place in Ischl, Archduchess Sophie gave the estate as a wedding gift to the Imperial couple.

The story of Elisabeth (Sissi) and het mother in law is not a pretty one. But to begin with Archduchess Sophie did give her son and his fiancee this lovely engagement present. She even had it rebuild and extended in the following years in a neoclassical style. After the rebuild the building was shaped like an "E" (from Elisabeth). 

The kaiservilla in Bad Ischl
Empress Elisabeth was very found of the Marmorschlössl, a teahouse in the large Englisch park that surrounded the Villa. It was kind of what the Trianon was to Marie Antoinette.

The park, with the Marmorschlössl and outbuildings, was built by the Royal gardener Franz Rauch. The white marble fountain in front of the building was created in 1884 by Viktor Tilgner.

Emperor Franz Josef spent a few weeks in this little Summer Palace nearly every summer and often clebrated his birthday here, on August 18. To honour him his birthday is still celebrated by the people of Ischl each year.

Hunting was one of the favorite pastimes of the emperor in the summer. The thousands of antlers and skulls that cover the walls of the kaiservilla testify of this passion.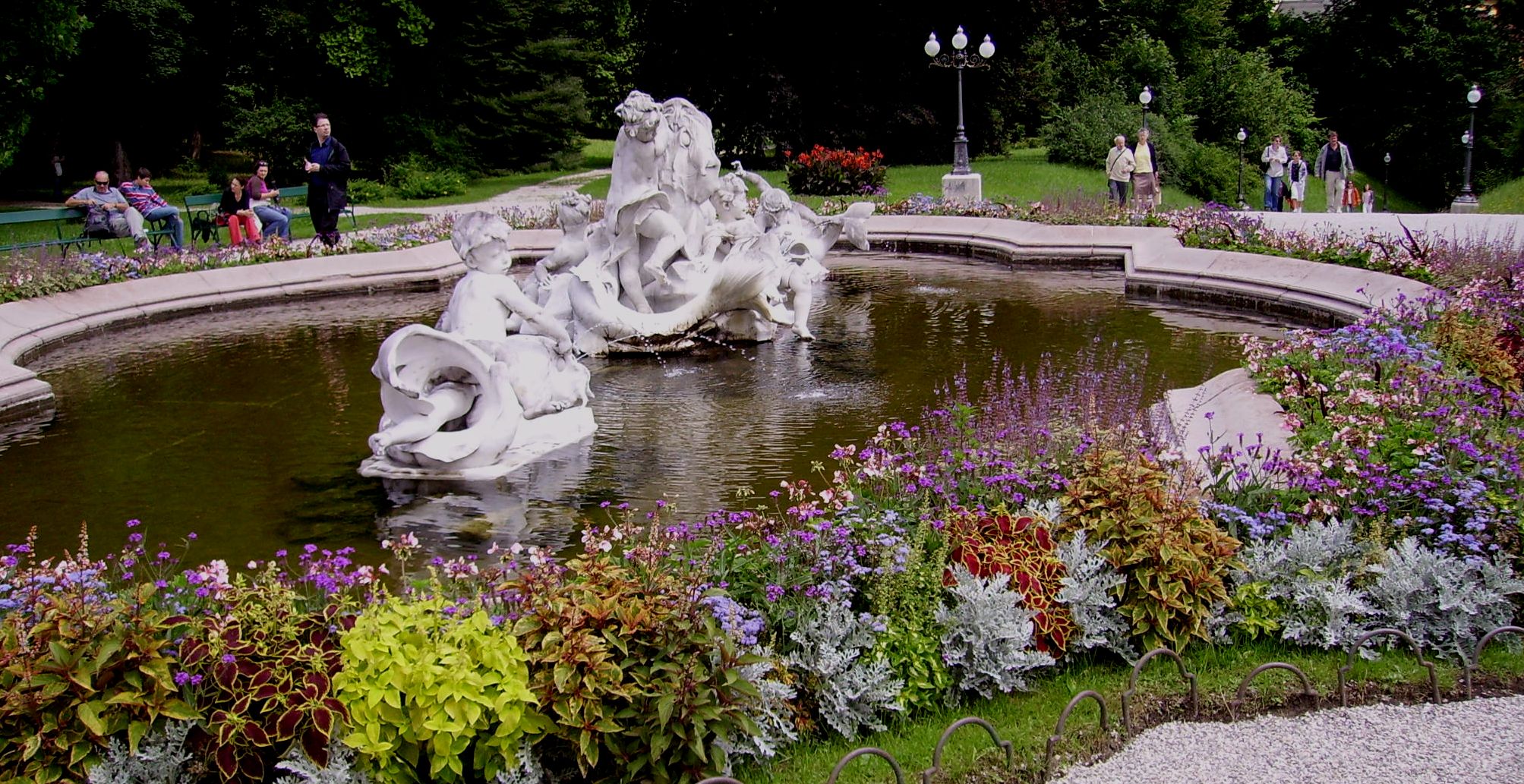 White marble fountain designed by Viktor Tilgner.
---
Politics at the Kaiservilla
The Kaiservilla is a miniature compared to the grand Habsburg residences like the Hofburg and Schönbrunn palaces in Vienna.
But this was intentionally, to create an intimate atmosphere where the imperial family could retreat from the protocol that dictated their lives in the great royal palaces.
Despite it's size, the Kaiservilla was also the place where many diplomatic meetings took place and it was in his office at the Kaiservilla where Franz Joseph signed the fatal Declaration of war on Serbia on July 28, 1914. This resulted in the first world war and eventually, the end of the Habsburg monarchy.
---
Emperor Franz Joseph died in 1916 and his youngest daughter, Archduchess Marie Valerie, inherited the estate. She was married to Archduke Franz Salvator.
Because the kaiservilla was private property the estate remained in possesion of the family after the fall of the Austro-Hungarian Monarchy (1918). Their son Hubert Salvator of Habsburg-Lorraine inherited the villa.

Today Archduke Markus Salvator von Habsburg-Lothringen, the great grandson of Franz Jospeh, still lives at the Kaiservilla and is the curator of the Villa musem. He invites you to come and see it!

Emperor Franz Joseph at his office at the Kaiservilla.
Empress Sisi with Gisela and Rudolf on the balcony

Emperor Franz Josef already allowed the citizens of his empire to view the interior of the Imperial Villa when he was not there, even the private apartments.

The descendants of the emperor who inheritted the Kaiservilla have continued this tradition to the present day. The only exception is that the house and park are now accessible during the summer months, the months that Frans Joseph and Elisabeth used to spend there, so the visitors can experienced the villa and park as the royal family must have experienced it in the past.

More information:

Jainzen 38
Bad Ischl 4820
Österreich

Email: office@kaiservilla.at
Phone:+43 6132 23241
DISCLOSURE: I get commissions for purchases made through some of the links in this article.
---