Thousands of antlers and skulls cover the walls of the Kaiservilla
Emperor Franz Josef spent a few weeks in this little Summer Palace nearly every summer. He often celebrated his birthday here, on August 18.
To honour him his birthday is still celebrated by the people of Ischl each year.
Hunting was one of the favourite pastimes of the emperor in the summer. The thousands of antlers and skulls that cover the walls of the Kaiservilla testify of this passion. 
In his lifetime, Franz-Joseph shot 48.345 deer! In the villa, you can also admire 2200 paintings with hunting scenes.
---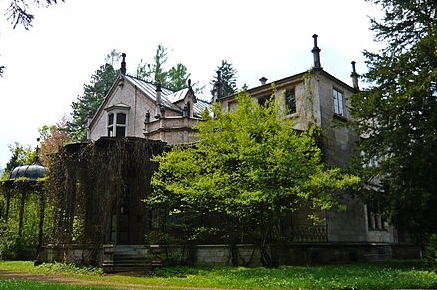 Marmorschlössl, in the gardens of the Kaiservilla
Empress Elisabeth was very found of the Marmorschlössl, a teahouse in the large Englisch park that surrounded the Villa. It was a get-a-way, quite like the Petit Trianon was to Marie Antoinette.
The building houses the photo museum of Ober-Österreich nowadays. 
The park, with the Marmorschlössl and outbuildings, was built by the  Royal gardener Franz Rauch. The white marble fountain in front of the building was created in 1884 by Viktor Tilgner.