Marquise de Maintenon, secret wife of Louis XIV

Madame de Maintenon the secret wife of Louis XIV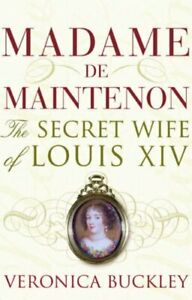 Madame De Maintenon: The Secret Wife of Louis XIV By Veronica Buckley

Louis XIV and Madame de Maintenon are secretly married. There is some debate over the exact date, could be October 1683 or April or May 1697.
The marriage was a so-called morganatic marriage, a practice that was used frequently by royalty.
It meant that the Husband's title and privileges can not be inherited by the wife (and children, if any). The marriage was not recognized in French law and Françoise would never become the official new Queen of France.
After the marriage, Madame the Maintenon was referred to as just 'Madame'.
However, the marriage was recognized by the Church, which is very important for the Sun King. In his old age, Louis becomes very religious and he is afraid of going to hell.  He is 46, considered old at that time, and has lived a promiscuous life up until then. Little did he know he would live for another 32 years! He stays married and presumably, faithful to Madame de Maintenon until he dies in 1715. The couple has no children, which is no surprise since Francoise was already 49 when the marriage took place.

Proof of the status update of Madame de Maintenon was the move sometime after the ceremony.  According to Saint Simon in his memoires: "...she astonished everybody by the apartments given to her at Versailles, at the top of the grand staircase facing those of the Kind and on the same floor. From that moment the king always passed some hours with her every day of his life; wherever she might be she was always lodged near him, and on the same floor if possible." 

Mme de Maintenon with her nice and hier, Françoise Charlotte d'Aubigné,
After the death of the King, Madame de Maintenon retires at Maison Royale de Saint-Louis in Saint-Cyr, the school for poor noble girls which she founded in 1684.  When she dies on 15 April 1719 she is buried in the school chapel. 
She never retires at the Chateau de Maintenon as she intended. She bequeaths this estate to her nice Françoise Charlotte d'Aubigné, the only child of her brother.