Schloss Laxenburg,  Old Castle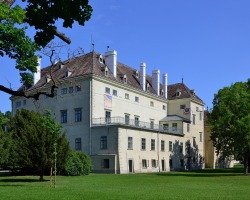 "Alten Schloss" (Old Castle)
The first castle that was build in this area was the Old Castle, built by the Herren von Lachsenburg.
In the 14th Century, this family went extinct and the castle became the property of the Habsburg family who turned the place into a hunting lodge.
In 1683 the Turks laid a siege on Vienna and destroyed everything around the city, including this Castle. Today only the old core of the castle can be seen, and the reconstructions and enlargements that were made later. The castle is not open to the public.
The chapel of the castle dating from the 13th Century, is still being used for concerts, weddings and other festivities.