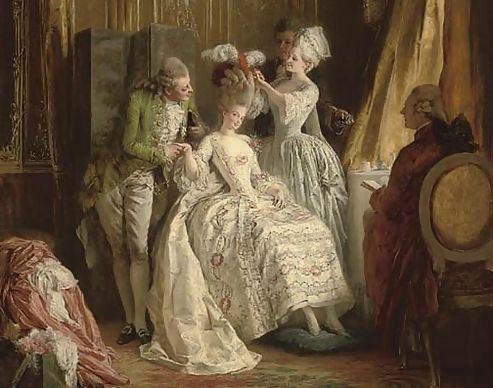 At Versailles palace, you had to dazzle the crowd with your appearance, and you could not wear the same outfit twice. This was a challenge, even for a queen, like Marie Antoinette. In the end, she became a real pro at this, and was known as the "minister of fashion". On the other hand, it seriously harmed her reputation, as she was also nicknamed "Madame Deficit," for spending a fortune on dresses, shoes and accessories. 
Women's fashion in the second half of the 18th century was largely determined by Marie Antoinette. The French Court had always been leading in fashion and etiquette throughout Europe, but Marie Antoinette's clothing and hairstyles were the talk of the day.

The style was getting more and more outrageous. The Panniers in the skirts were getting wider, the hairstyles were sky-high. The hair was strengthened with constructions of metal, pillows and horse hair. The dresses were supported by extremely wide panniers.
It was not a very practical style; women could not get through the door or into a carriage the normal way, and they certainly could not sit next to each other. You needed someone to help you get dressed, but since Marie Antoinette was dresses by her ladies of honour and the ladies of the palace each day, this was no problem for her.