Lady Jane Grey
the Nine Days'Queen
Lady Jane Grey is another teenage victim of her unscrupulous relatives who lost her head to the executioner's block.  Jane got tangled up in the ongoing battle in Tudor times between the Catholics and those in support of the Reformation.  Like Catherine Howard and Anne Boleyn before her, she lost her head in the process. Unscrupulous,  ambitious adults used these girls to gain or remain in power, indifferent to the faith of these women.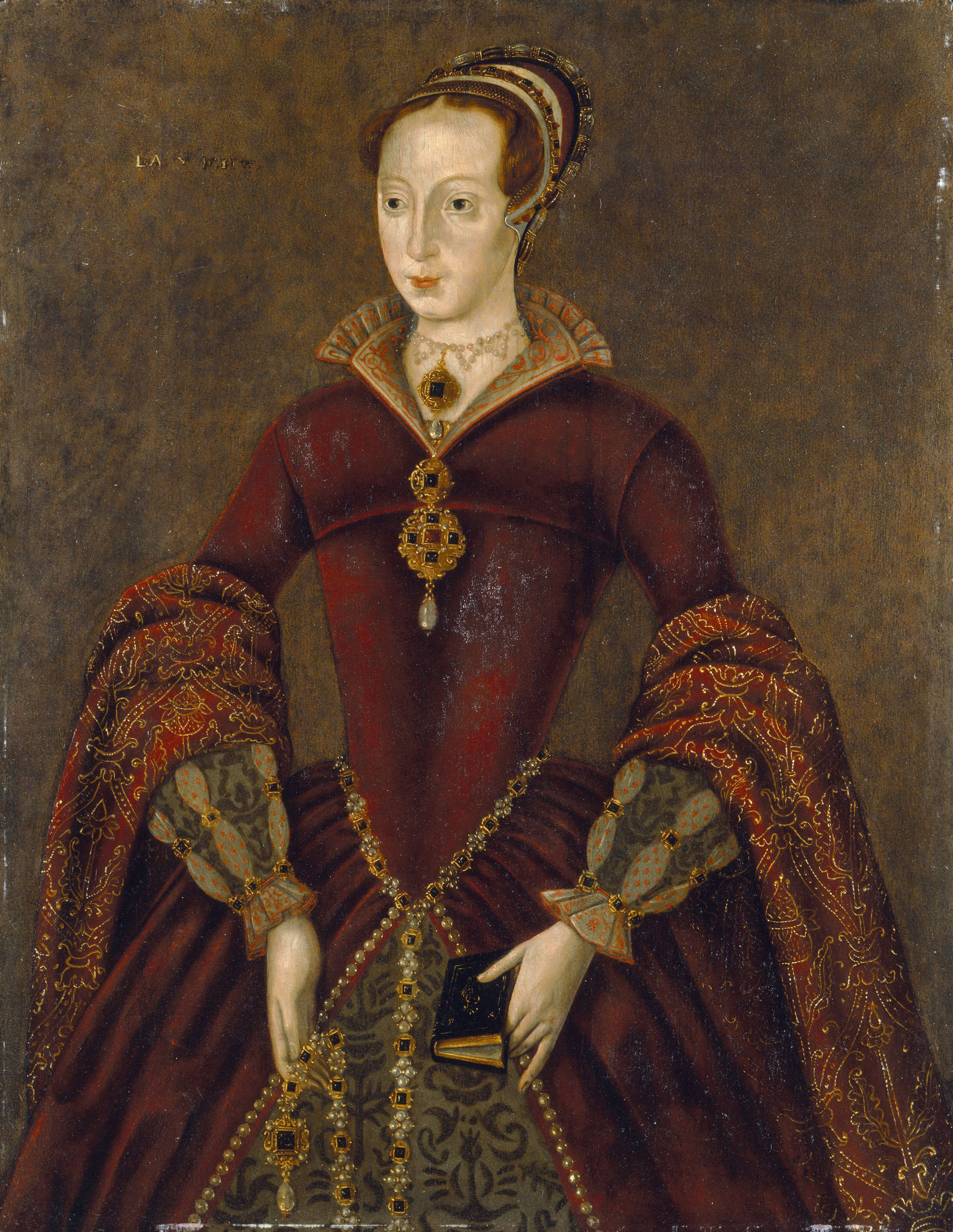 Lady Jane Grey
DISCLOSURE: I get commissions for purchases made through some of the links in this article.
Childhood of Lady Jane Grey
Jane, born around 1537, was a great-granddaughter of Henry VII. Her father,  Henry Grey married Lady Frances Brandon, who was the daughter of Mary Tudor. 
Jane's grandmother Mary Tudor was a  sister of Henry VIII. She had first been married to the king of France,  but after he died she married Charles Brandon. They had 3 daughters, one of them being Frances, Jane's mother.
Jane was a granddaughter of Mary Tudor, great-granddaughter of Henry VII and Henry VIII's great-niece. She was not part of the royal family, she was a lady and no Princess. These strong ties with the Tudors did make her very interesting for power-hungry men like John Dudley, Duke of Northumberland.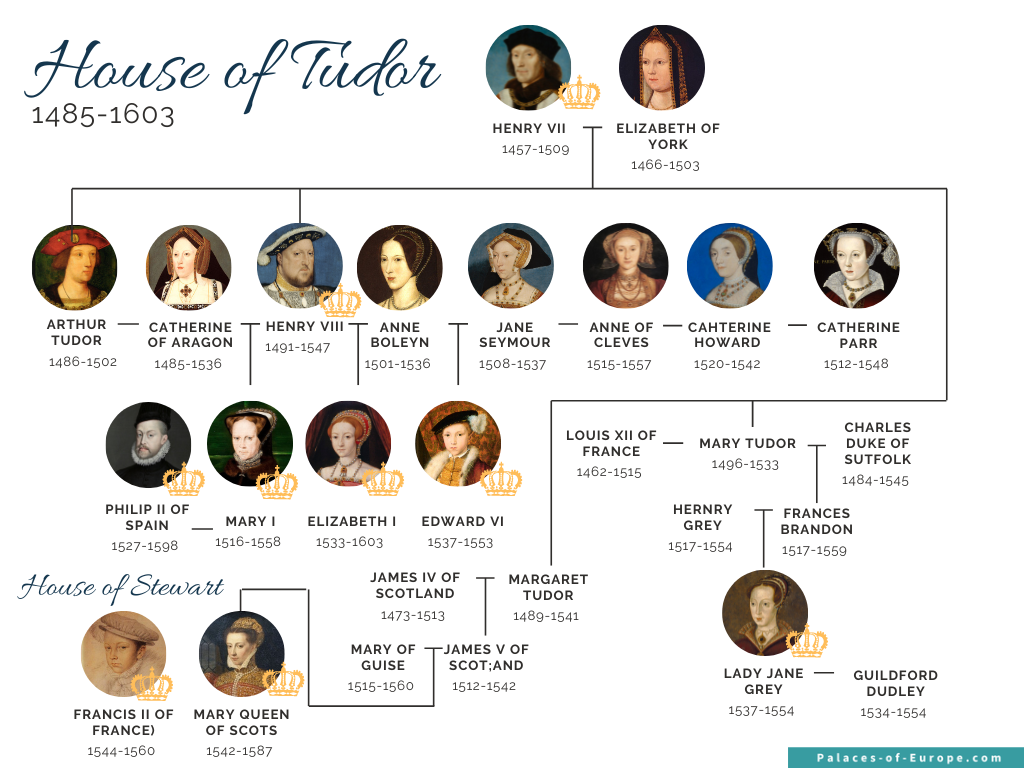 House of Tudor Family tree
When Jane was growing up Edward VI was King of England. He was the only son of Henry VIII and Jane Seymour, only nine years old when his father died and he became king of England.
The real power in the United Kingdom lay by his regents. At first Edward's uncle, Edward Seymour, Duke of Somerset was the 'protector' of the underaged king.
In 1549 Seymour was overthrown and executed, and John Dudley, Duke of Northumberland became the new puppet master of the King.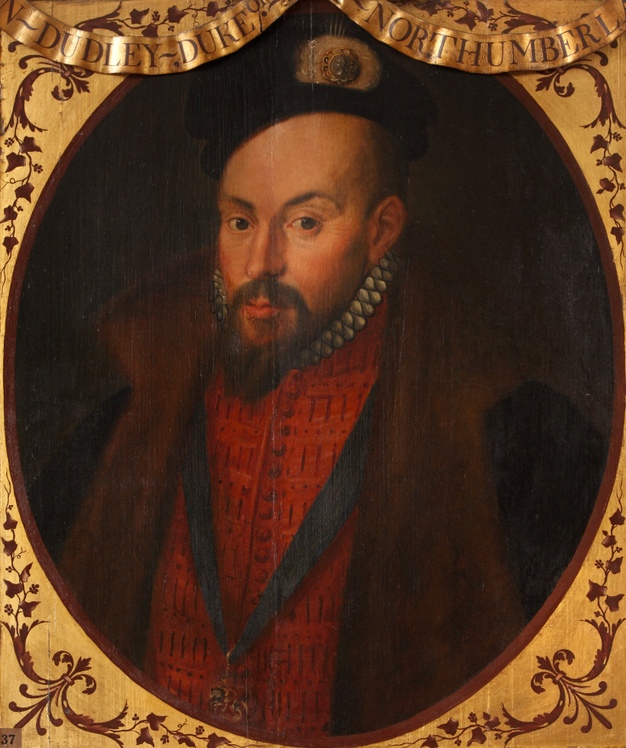 John Dudley, Duke of Northumberland
Edward VI and Northumberland were both devoted Protestants. When the young king became ill in 1553 they had intense conversations about the succession. Next in line to the throne of England was Edward's half-sister Mary. She was the daughter of Catherine of Aragon, and a Catholic.

Northumberland came up with a plot to consolidate the English Reformation, which was Edward's greatest desire.  Of course, a nice side-effect for Northumberland would be for him to maintain his own powerful position. Here Jane Grey came into the picture.
Lady Jane had excellent tutors growing up, and she was very smart and quick-witted. She spoke and wrote Greek and Latin and was proficient in French, Hebrew, and Italian. 

She was also a committed Protestant, carrying around her little prayer book everywhere. Witnesses claim that she was even carrying it with her on her way to the execution block. This prayerbook is digitised and can be found on the British Library website. 

Fascinating are the letters that can be found in the margins of the book, written by Jane herself while she captivated in the Tower. One of these is to her father, and reads:

'The Lorde comforte your grace, and that in his worde whearein all creatures onlye are to be comforted. And thoughe it hath pleased God to take awaye 2 of your children: yet thincke not, I most humblye beseech youre grace, that you haue loste them; but truste that we, by leafinge this mortall life, haue wunne an immortal life. And I, for my parte, as I haue honoured your grace in this life, wyll praye for you in another life. Youre gracys humble daughter, Jane Duddley'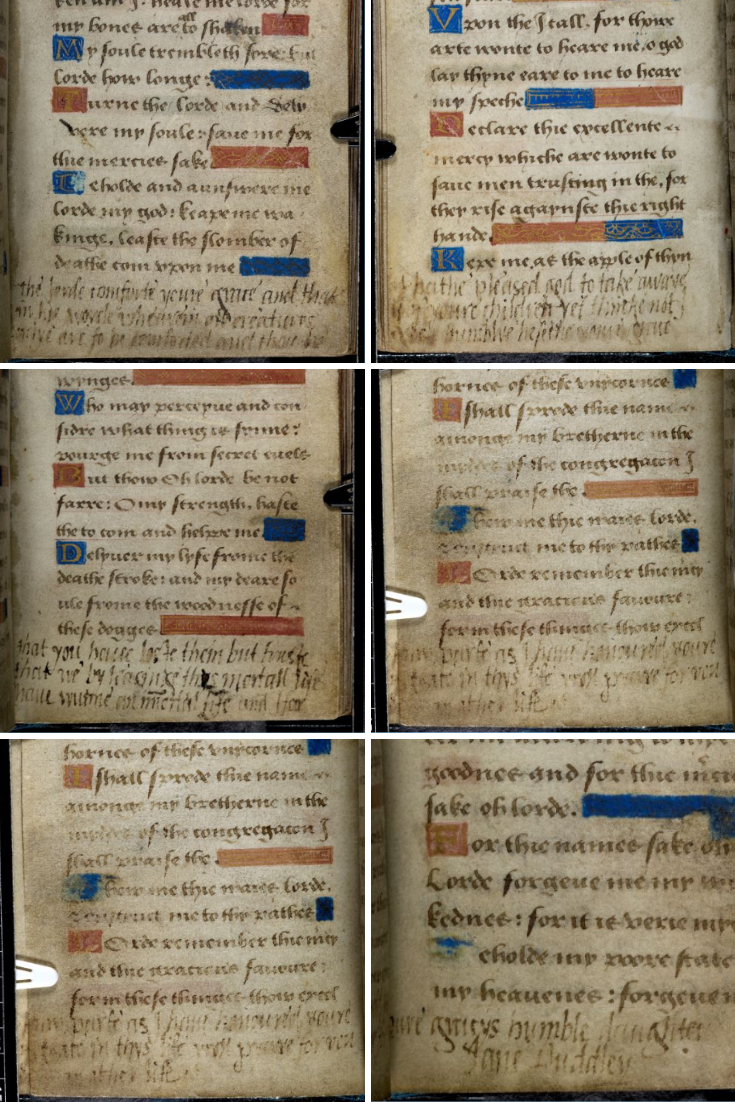 Lady Jane Grey's prayerbook
This reproduction of The Lady Jane Grey's Prayer Book depicts each page of the original volume in full color and at actual size, and each image is accompanied by a precise transcription of its text together with a rendering of that text in modern English. The volume also includes an Introduction by Dr J. Stephan Edwards, an academic expert on Lady Jane Grey.
When she was nine years old, she went to live in the household of Queen Catherine Parr, the widow of King Henry VIII. When Catherine died in September 1548 Jane stayed in the employment of Catherine's fourth husband, Thomas Seymour. Thomas even planned a marriage between Jane and his nephew, the young king Edward VI. Unfortunately, as was often the case in those days, Seymour lost his head in 1549 for treason, before his plans were completed. Jane returned to her parents at Bradgate House where she continued her studies. 
Marriage with Lord Guildford Dudley
In May 1553, Jane married to Northumberland's son, Lord Guildford Dudley. By that time it became clear that Edward was dying from tuberculosis. The marriage of Jane and Guidford was all part of Northumberland's masterplan to remain in control. 
Soon after King Edward died in July 1553 Northumberland and his supporters proclaimed Jane Queen of England on 10 July 1553. Jane fainted and was reluctant at first, but her in-law's and her own family persuaded her to accept the crown.

Within days it became clear that the supporters of Mary Tudor, Edward's Catholic sister, by far outnumbered those of Northumberland. Even Jane's own father proclaimed Mary the rightful queen, probably in an attempt to save his own head. So after only nine days, on 19 July, Mary was proclaimed rightful Queen. This meant of course that Jane was a usurper and traitor. 
Northumberland was arrested and executed a month later. His son Guildford Dudley and Lady Jane Grey were also brought to the Tower. They were both tried for treason and sentenced to the death penalty. 

At first it looked like Queen Mary I would pardon Jane. After all, they were related and Jane was just a teenager of 15 or 16 years old. Again it was a guy who sealed Jane's faith; her own father this time.
He thought it necessary to participate in Sir Thomas Wyatt's rebellion in 1554. This uprising, caused by Queen Mary's plan to marry Prince Philip of Spain, was considered a direct attack to the new Queen.  The rebel leaders were committed Protestants and considered traitors. The outcome was evident, they were all convicted of high treason, and executed.

As a result,  Jane and her husband were no longer protected by the Queen. They were beheaded on February 12, 1554; Jane's father was executed 11 days later.

Traces of Lady Jane Grey
Bradgate House, the Grey's family estate.
Jane was probably born at Bradgate House in c. 1537. and spend her childhood there. Her father's family had lived there for centuries. The house was demolished in 1926, but the ruins are being excavated. You can read more about the Ruins of Bradgate House in Bradgate Park here.
Bradgate House, By NotFromUtrecht - Own work, CC BY-SA 3.0
Bradgate Park is a public park nowadays in Charnwood Forest, in Leicestershire.
Public access into the ruins of Bradgate House is free of charge. For opening days and hours you can visit 
the Bradgate Park Visitor Centre.
Living with Katherine Parr
Katherine Parr was a very rich lady who owned several mansions. When Jane first went to live with her they resided in Chelsea Place,  a riverside mansion in London which Katherine inherited when Henry VIII died. It no longer exists. 

In the summer of 1548 the household moved to Sudeley Castle where Katherine gave birth to a daughter. She died a few days later on september 5th. She was buried on the castle grounds. 

Sudeley Castle By Wdejager - File:Aerial photo of Sudeley Castle.jpg, CC BY-SA 4.0, Link
Sudely Catstle is a privatley owned castle that is open to the public. You can visit the castle, hire it or have your wedding there. The also have 16 Sudeley Castle cottages for rent. For more infomation you can visit the website

The New Inn, Gloucester
This hotel and restaurant is interesting because Jane Grey was proclaimed Queen of England In this 600-year-old building on 10 July 1553. Nowadays the building is the most complete surviving example of a medieval courtyard inn with galleries in Britain. For information and booking a room you can go to booking.com
Tower of London
Jane settled into the royal apartments at the Tower of London when she was proclaimed Queen. But not soon after she found herself in another part of the building, imprisoned after being tried for treason.
Lady Jane was beheaded at Tower Hill on 12 February 1554 and buried at the Chapel of Saint Peter-ad-Vincula, together with her husband and father.