As was customary when the predecessor was too young to rule, Louis' mother Anne of Austria became his regent. Real power, though, was with Cardinal Mazarin, the prime minister of France at the time.
Cardinal Mazarin was quite successful. He and Anne survived the uprising, known as 'the Fronde, and he succeeded in ending the war with Spain. On top of that, he arranged the marriage of Louis the 14th with Maria Theresa of Spain. She was the daughter of the Spanish King Philip IV. The marriage contract was signed in 1660. 
In June 1660, the Spanish princess Maria Theresa of Spain meets Louis XIV of France for the first time. The meeting is set on an island in the Bidasoa river, a natural border between France and Spain. She has to say goodbye to her father and most of her companions. Two days later, on June 9th the marriage takes place.

Meeting of Louis XIV and Phillip IV on the island of Fiasans in 1660 - painting by Jacques Laumosnier
The man in red is Louis XIV. His mother Queen Anne is behind him, together with Cardinal Mazarin on the right. Philippe, Duke of Orleans (Louis'brother) is on her left. King Phillip IV is the one on the right greeting Louis. The Spanish king is the brother of Anne of Austria. It is the first time Anne sees her brother since she left Spain in 1615. Marie Theresa stands behind her father. in a very big white dress. She is Louis' first cousin.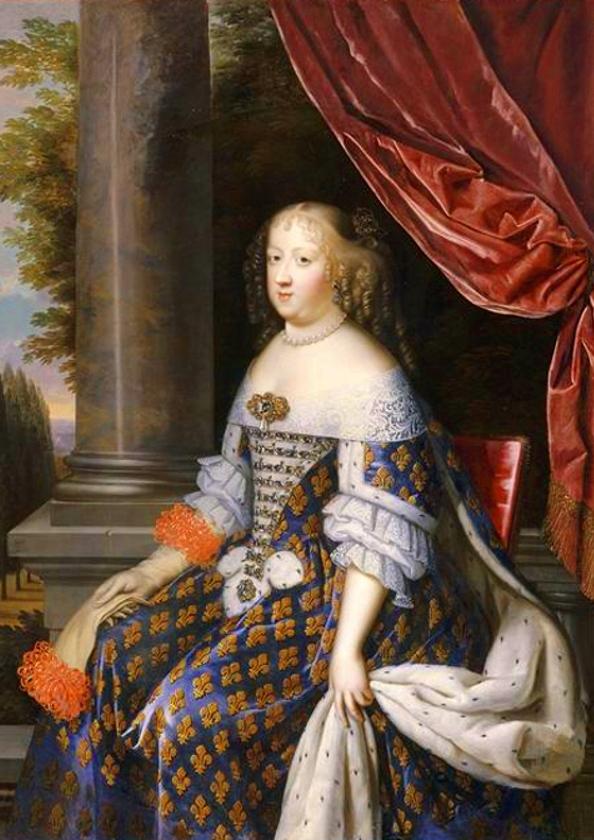 Marie Thérèse of Spain
The newlyweds were 17 and 22 years old and 'double' first cousins (His father was the brother of her mother, his mother was the sister of her father) .
Louis and  Marie Thérèse had six children together. Only one of them survived childhood and outlived his mother, this was the Dauphin Louis. 
Marie Thérèse came to France at the age of 17 and died at the age of 44. She had to put up with her husband and his many mistresses. She was even grateful if these mistresses were kind to her. Especially Madame de Maintenon insisted Louis had to spend more time with his wife.

She lived a boring life and claimed that she only had one happy day during her marriage. Which day this was remained a mystery.