After the dead of Louis XV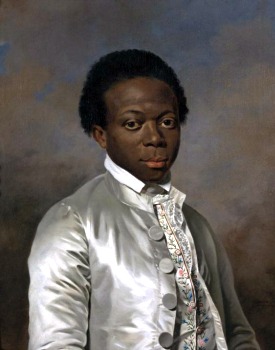 Louis Benoit, or Zamor, servant of Countess du Barry
Another gift that King Louis gave to his mistress was Zamor, a slave-servant that. Zamor was taken from Bengali by slave traders when he was eleven years old.
Madame du Barry started to care for the boy, christened him as Louis Benoit and paid for his education. She also dressed him up, spoiled him and showed him off to the other courtiers.
This treatment ultimately led Zamor into Revolutionary politics, betraying his Mistress in the end.
On 10 May 1774 Louis XV dies of smallpox and Countess du Barry must immediately leave the Palace of Versailles.

After the accession to the throne of Louis XVI, she is banished to a nunnery. She only stays there for a few years. She starts a new liaison with a powerfull man. From 1776 until the French Revolution, however, she lives in her castle with the Duke of Brissac, her new lover.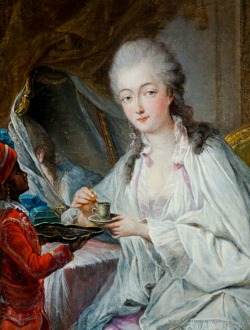 Here is a painting of Zamor serving Madame du Barry.
Through her new friend, the Duke of Brissac she is welcome again in the highest circles pretty soon.
The beautiful life comes to an end again with the outbreak of the French revolution in 1792. Madame du Barry flees to England to get back her belongings that were stolen, but she is naive enough to go back to France.

On 9 September 1792, the Duke of Brissac is killed by a peasant mob in Versailles. They throw his head into an open window, landing in the salon of  Château de Louveciennes!
Jeanne writes unctuous letters to the new rulers, but this does not lead to the desired result. They still arrest her. An important witness during the trial of Madame du Barry is Zamor, her former servant, who has joined the Jacobins.
In an attempt to stretch her life she makes some revelations, including where she has hidden jewels in the park of Louvecienne. It does not save her. On 7 December 1793 she loses her head under the guillotine, exactly like her rival Marie Antoinette who lost hers in October. At the end of their lives, they are finally treated equally!
Madame du Barry did not leave a political legacy, but she did leave another one. In classical French gastronomy, all preparations with cauliflower are called Dubarry (sometimes written as Du Barry).
Cauliflower was introduced to the Royal French in the years of Madame du Barry. Louis XV tasted cauliflower with the typical white sauce and the festive cream soup. He dedicated it to his mistress Madame Dubarry. Nowadays it still bears her name. from a simple salad to the most famous Crème Dubarry