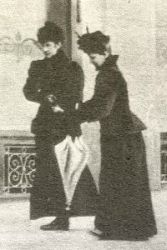 Empress Elisabeth and Countess Irma Sztaray at Territet, Switzerland
Italian from origin, Luigi came to Geneva to kill Philippe, Duke of Orleans, the pretender to the throne of France.
Luigi is an anarchist who believes in 'Propaganda of the deed'. By taking violent action this political position aims to provoke a revolution. Anarchists like Luigi Lucheni believed that all forms of government are inherently oppressive and that the only way to achieve a truly free society is to abolish them altogether. They argued that violence was sometimes necessary to achieve this goal, and they often targeted government officials and other symbols of authority.

As Luigi arrives in Geneva he learns that Phillipe already left for the Valais.
As he is deciding his next move, he reads in the paper that another royal person is staying in Geneva.
A classic case of being in the wrong place at the wrong time; Empress Elisabeth resides in the Hotel Beau-Rivage on the shores of Lake Geneva. She travels incognito under the pseudonym Countess of Hohenems, but a newspaper reveals her true identity and publishes this. Luigi reads it and changes his plans, waited for the right moment to attack. It is not the person that matters to him, just the act of killing a member of the aristocracy is what's important. 
On this sunny Saturday at 1:35 pm the Empress and Countess Sztaray, her lady in waiting leave the hotel. All the other staff in service of Elisabeth has already left Geneva by train, and stubborn as she is, Elisabeth refused to take bodyguards with her.
Luigi has been waiting for an opportunity like this. He approached the ladies when they walk by and acts as if he stumbles and falls against Elisabeth, stabbing her with a sharpened needle file. Elisabeths falls down, but is helped up again by a coach driver and she and the countess continue to walk to the gangway and board the ship. Elisabeth even talks to the countess, saying that Luigia perhaps tried to steal her watch. She nor any of the bystanders, realize that she is stabbed.