Luigi did not miss, his file punctured the body of the empress for 8.5 cm, broke the fourth rib, pierced the lung and penetrated the heart fully. The fact that Elisabeth could get up and walk on is first of all due to the good shape Elisabeth is in. Despite her age Sisi is well trained, as she has been all her life. She grew up in the mountains, loves hiking and horseback riding, never smoked and had no obesity. To keep up her good looks she did gymnastics on a daily basis. This resulted in a very good physical condition for a woman of her age at the end of the 19th century.
The other thing that made her keep her on her feet for so long was the tight corset she wore. Because of the compression of her belly and pelvis there must have been relatively more blood in the upper part of her body than there usually is.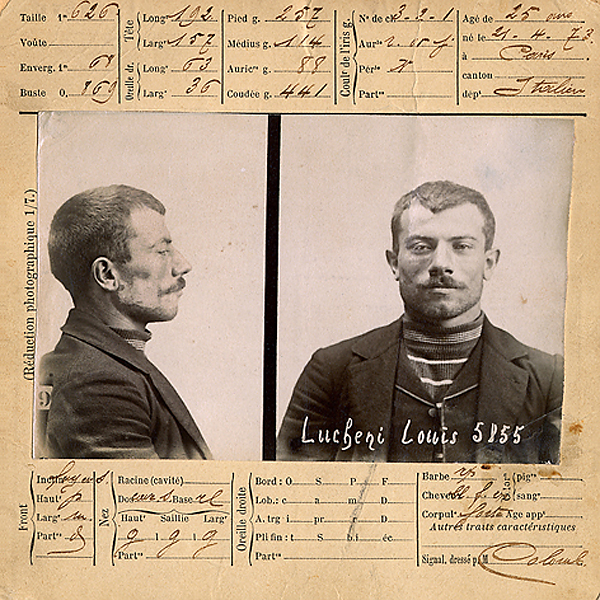 Mugshot of Luigi Lucheni, the killer of Empress Elisabeth (Sisi) of Austria
Empress Elisabeth faints for the first time when on board of the ship. She comes to again, probably because the new blood flow that reaches her brain because of her horizontal position as she is now laying down. She asks the countess what has happened, still no clue of her situation.
Only after opening of the corset by the countess, causing the blood reserve to spread over the rest of the body, the empress faints for the second and last time.
Countess Sztaray than sees the small blood stain on Sisi's breast and raises the alarm. The captain of the boat, Captain Roux, is made aware of the identity of the fainted lady and immediatley turns the boat around towards the landing stage in front of the Hotel Beau-Rivage. A stretcher is improvised from sails and peddles and six boatmen carry the empress back to her hotel room.
Most likely she already dies on board of the boat. Two doctors are in the hotel, but when doctor Golay arrives in her room it is already too late. Heart surgery is not possible yet in 1898 anyway, so the stabbing of the heart would have been fatal, even if it was recognized immediately after the attempt.
To check if the Empress is still alive Dr. Mayer makes a small incision in Sissi's arm, but there is no blood flow, and the Empress is pronounced dead at 2:20, September 10th, 1898. The priest that arrived together with the doctors is too late to grant her absolution.