franz joseph and elizabeth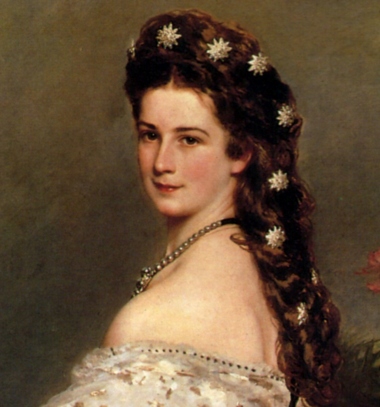 Empress Elisabeth, wife of Franz Joseph 1 of Austria
Archduchess Sophie "the only man at the Hofburg Palace"  as she was commonly referred to, registrated almost everything for her son. An excellent education stressing on military training and Catholic piety, a throne, a lady to teach him on the practices needed to produce an heir, and a future wife to make these heirs with. The wife she had choosen was Helene, one of the daughters of her sister, so Franz Josephs' cousin.  
It must have been a great shock for Sophie when she found out that Franz Joseph did not listen to her in this very important matter.His marriage to Duchess Elisabeth of Bavaria, known as Sisi, on April 24, 1849, was not what she had planned for him. 
When he met his cousins Helene and Sisi, he fell head over heals for the latter. It took him only two days to ask her to marry him!
His marriage to Elizabeth, also known as Sisi, brought some much-needed sparkle to his otherwise gloomy existence. Their love story was the stuff of legends, an Elizabethan era Romeo and Juliet — complete with petticoats and powdered wigs. Their love story, primarily a political alliance, adds a different dimension to the otherwise stern figure of Franz Joseph
Emperor Franz Joseph with his only son Rudolf, Crown Prince of Austria.
Did Sisi love Franz? The 15 year old girl must have been impressed by the atletic young emperor when they met. Especially when he dit not have those ridiculous side burns yet. 

They did not have a fairy-tale marriage. Their differences were glaring. Sisi, all about adventure and exploration, and our good emperor Franz Joseph, married to tradition. While he was doggedly dedicated to his duties, Elizabeth was free-spirited, intellectual, and overburdened by her life at court. 
After their marriage, Emperor Franz Joseph and his rebellious wife, Empress Elisabeth, welcomed their first child, a daughter named Sophie, on March 5, 1853. Tragedy struck quickly, however, as Sophie died just two years later while the family was traveling to Hungary.
In the midst of their grief, the royal couple welcomed another daughter, Gisela, on July 12, 1856. Their long-awaited crown prince, Rudolf, was born on August 21, 1858, and their youngest child, Marie Valerie, was born on May 22, 1868.
However, the demands of royal life clashed with Sisi's desire for freedom, and she began to travel extensively across Europe, avoiding the strict protocols of the court.